February 26, 2021 - 4:19pm
Wednesday Night Lights (WNL) Rail-Jam Series Athlete Has Everyones Attention.  Photo: Ryan Dee @Jhsnowboarder.com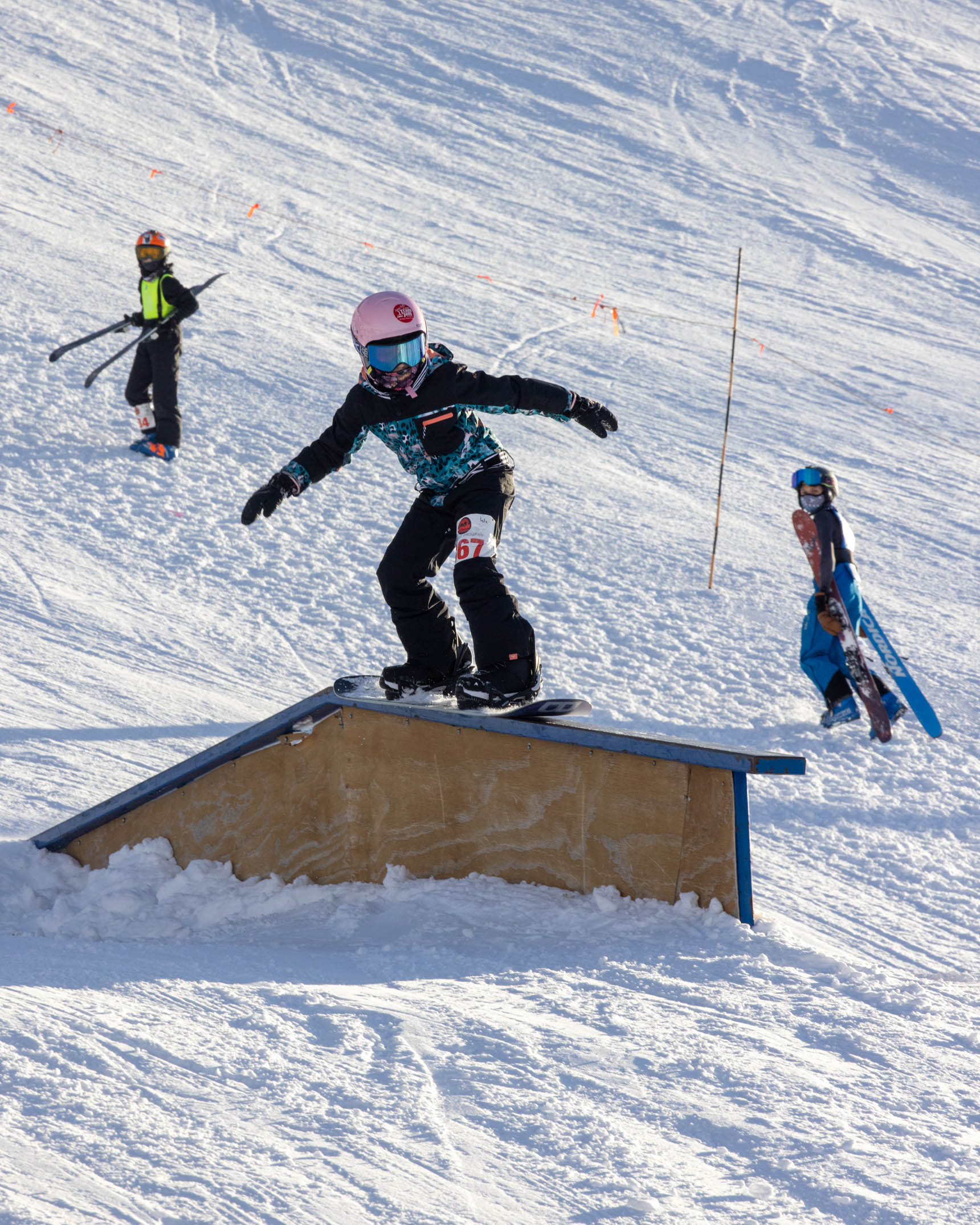 Jackson Hole Ski & Snowboard Club's Freeride Program Athletes have been putting in overtime this past month.  When the Athletes aren't pursuing academics and riding powder, they were in competition mode!  Our Athletes tested themselves at Snow King Mountain Resort's International Freeskier & Snowboarding Association (IFSA) big-mountain competition.  Once again, the Freeride Program's results did all the talking!  
Results for IFSA SK
Snowboard Male U12
1stPlace: Ace Emery
Snowboard Male 12-14
1stPlace: Finn Varga
2ndPlace: Ellis Swain
Ski Female U12
1stPlace: Metta Campbell
Ski Male U12
1stPlace: Taz McBride
2ndPlace: Ashe Bessette
7thPlace: Renny Roberts
8thPlace: Mark Carey
10thPlace: Dean Hilke
12thPlace: Bennett Hultman
16thPlace: Brendan Roberts
17thPlace: Rocco Neilson
18thPlace: Porter Farren
Shifting gears from big-mountain competition and powder riding, the Jackson Hole Ski & Snowboard Club's Freeride Program hosted their first Wednesday Night Lights Rail-jam series on February 24th.  Our Athletes came home to their local stomping grounds and sparks were flying as they had a great time competing with other local athletes.  Listed below is another amazing result page of Freeride Program Athletes. 
WNL Rail-Jam February 24thResults 
12 & Under Ski Girls:
1stPlace: Taryn Moe (One of our amazing Alpine Program Teammates)
2ndPlace: Metta Campbell
12 & Under Ski Boys:
1st Place: Taz Mcbride
3rdPlace: Tosh Carr
12 & Under Snowboard
2ndPlace:  Ellis Swain
3rdPlace:  Ace Emery
12 & Under Snowboard Girls
2ndPlace:  Ivy Lu Swain
3rdPlace:  Halle Heron
12-14 Boys Ski
1st Place: Winston Ochs
3rdPlace:  Isaac Goralski
12-14 Boys Snowboard
3rdPlace:  Finn Varga
15+ Boys Snowboard
1stPlace:  Henry Munro
2ndPlace: Jake Johnson
Our Freeride Program is keeping our foot on the gas pedal as we enter March. We still have two more Wednesday Night Light's Rail-Jams left (March 3, & 10) and then we're off to compete at Grand Targhee in our regions final IFSA big-mountain event (March 12-14).  
If you haven't already, please read March's Student-Athlete Support Program update.  This information is relevant to all JHSC athletes:  Click here.  
It doesn't look like spring is ready to show its warm face – keep those powder boards out and that facemask on!