The Hall of Fame was created in 2013 and is part of the JHSC Ski & Snowboard Museum, housed in the Ski Shelter side of Snow King Center.
We inducted 7 new members at a banquet and ceremony on June 2, 2022. 
Read the Buckrail article about the Hall of Fame and Class of 2022
Learn more about the members of the Class of 2022: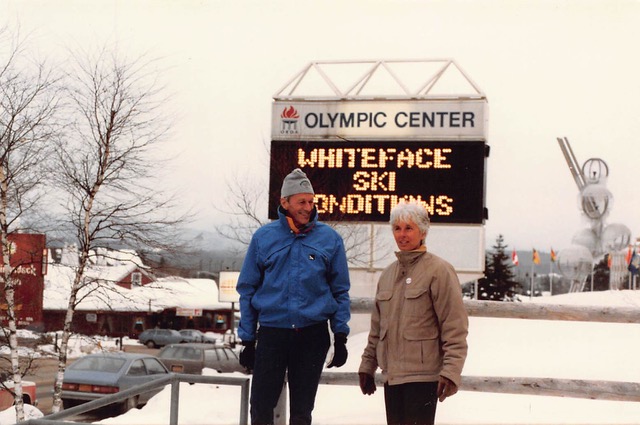 Skiing was a lifelong passion for Med and Petie Bennett. When they relocated to Wilson, WY, and their daughters joined the Jackson Hole Ski Club Nordic team, Med and Petie pitched in to help with local races. While they were actively involved in helping the Club, Med decided to jump into Nordic competition himself; in 1979, he began racing on the Masters circuit. Soon after, Petie tired of just watching the races and decided to give it a try. They traveled together to regional and national races, and in 1985, they were able to qualify for the World Masters Championships in Germany. In subsequent years they traveled to World Championships in Lake Placid, NY; Finland; Austria; Quebec; Italy; and Alaska. When Petie and Med left the international competition circuit in the early 1990s, they continued to enjoy Nordic skiing recreationally. Their skiing lives—and the testament they make to Nordic as a lifelong sport—have been an inspiration to many.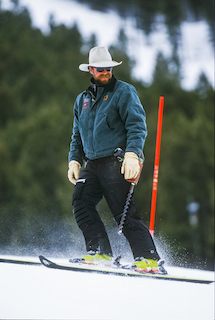 The Alpine Program Director from 1986-2000, Scott Bowdler oversaw a  period of exponential growth in participation at all age levels. Scott led several key advances that grew JHSC from a local race program into a strong contender in the IMD Western Region: he built up the JHSC coaching roster with accomplished former NCAA racers, and he and his staff worked with the Intermountain Division, the Western Region, and the US Ski Team to boost the Jackson alpine racing scene. His own coaching expertise inspired and enabled a generation of JHSC athletes to reach national prominence. Scott also led the development of the new JHSC headquarters in the Snow King Center that replaced the old log shelter—adding offices, athlete facilities, and a race room and timing area that significantly upgraded Intermountain Division races. He was instrumental in running the race requirements and on-hill course development for the US National Alpine Championships in Jackson in 2000, which propelled Jackson Hole into the national spotlight. (Photo credit: Jonathan Selkowitz)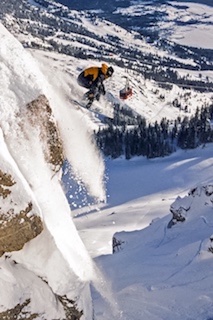 In the mid 1980s, John Griber began snowboarding in the valley, pioneering many first descents in the Tetons. Honing his skills with other local snowboarders in Jackson Hole equipped John for a two decades-long career as a snowboard athlete; his primary sponsorship, by The North Face, took him around the world, climbing and riding on all seven continents. Chasing first descents and, after 2000, filmmaking, John has completed more than ten expeditions to Nepal, summiting Everest twice. He was the first North American to ride from an 8000-meter peak—Tibet's Cho Oyu, the 6th tallest in the world. In the early 1990s, excited to be a part of something new in snowboarding after his own experiences in the sport, John took on the newly created roles of JHSC Snowboard Program Director and Head Coach. Under his leadership, snowboarding took a stronghold in the Club, and JHSC has produced some of the best riders in the world. (Photo credit: Jonathan Selkowitz)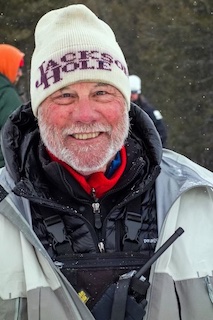 Mike Hammer's long-standing support of the Jackson Hole Ski & Snowboard Club began in the early 1980s: four decades later, athletes still approach Mike to share fond memories of his encouragement at an alpine race start. When a business opportunity in 1979 brought him to Jackson Hole, Mike's interest in skiing led him to the Jackson Hole Ski Club. Mike took on the role of Alpine starter and, soon after, a seat on the Board of Directors. For over twenty years and hundreds of races, Mike was at the start, and his role as a starter evolved into various certified alpine official roles in the Intermountain West: Head of the Alpine Officials Committee for IMD, Certified Technical Delegate for USSA, and President of IMD in 2007. He also twice served one-year terms as interim JHSC Executive Director. Amidst all the administrative work, Mike was also a JHSC Masters program participant. The tone Mike set—his focus on joy, laughter, hard work, and care for racers and staff alike—continues to drive the culture of the JHSC today. (Photo credit: Jonathan Selkowitz)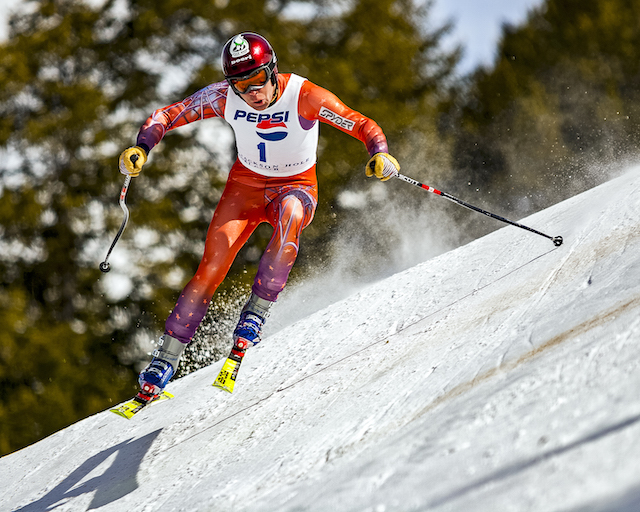 A tireless supporter of the Club, Rick Hunt has played a key role in taking JHSC into the future. Rick led the Jackson Hole High School team in points his senior year before heading to Bozeman for college, where he worked as a ski instructor and also took his ski career in the new directions of mountaineering and cinematography: linking his rock-climbing and skiing abilities, he completed several first descents in the Bridger Mountains. In 1992, Rick departed for Alaska, and, with several others, made numerous first descents that Rick filmed. When he returned to Jackson, Rick continued his mountaineering and racing careers, participating in USSA Masters racing and the annual JHSC Town Downhill. As a freelance cinematographer, Rick has worked from Alaska to Antarctica with a range of organizations, including TGR, Warren Miller, and NBC as part of the Olympic Downhill crew. In 2009, he joined the JHSC Board of Directors, on which he served three 3-year terms, and he was a key contributor to the Building Our Base Campaign. (Photo credit: Jonathan Selkowitz)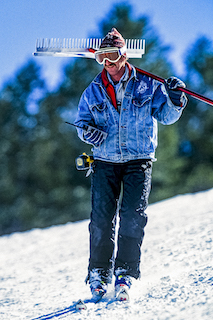 Tom Johnston's impact on the ski racing world reaches from the local club to the World Cup and Olympic levels. A Wyoming native, Tom took on the roles of JHSC Alpine Coach, member of the race crew, and Head of Alpine Events in 1986. His "cowboy" work ethic—grounded in hard work and straightforward communication—was an example to everyone. At JHSC, Tom raised the bar for race course preparation and safety standards, which he has since carried to a multitude of World Cup and Olympic venues. In 1998, Tom served as the Alpine Technical Advisor for the US Ski Team, and he has been involved in the Olympic Games in numerous capacities, including Chief of Course for women's speed events in 2002 and Alpine Ski Technical Advisor in 2014, 2018, and 2022. As one of the foremost experts in the world on race hill preparation and venue safety, Tom's legacy can be felt from the robust race culture that continues to grow and develop in Jackson to the Olympic alpine course. (Photo credit: Jonathan Selkowitz)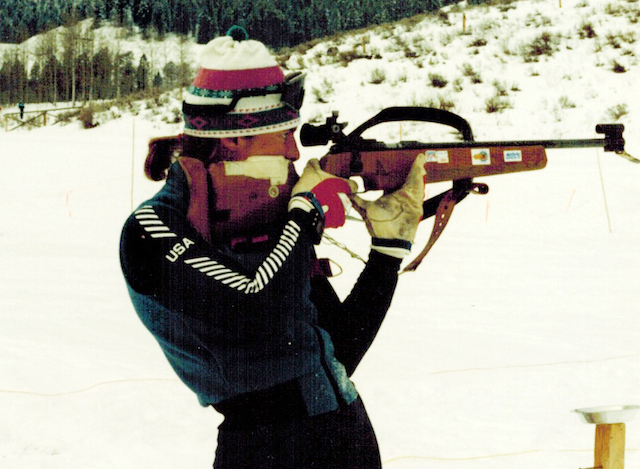 A pioneer in US Women's Biathlon, Pam Weiss was selected as a member of the first US Biathlon team to include women in 1980. A mere two years later, she was named by the US Olympic Committee as the Biathlete of the Year. Pam was a leading member of the US team for the World Championships in 1985, 1986, and 1987, placing in the sprint, individual, and relay events in 1985 and 1986. She medaled in Europa Cups, US Nationals, and North American Biathlon Championships; of her 17 career medals, five were won in international competition and nine were gold. During her years on the US National team, Pam volunteered as a coach for the JHSC Nordic Program, from 1982-1988, and she served on the Board of Directors from 1993-1995. Throughout her competitive career, Pam was a leader and mentor who forged the way in overcoming obstacles to women's participation in Biathlon.
Nominations to the Hall of Fame
We induct a new class into the Hall of Fame every 4 years. To be considered for the JHSC Hall of Fame, nominees must have notable ski or snowboarding achievements in at least one of the following categories: Competitor, Pioneer, Innovator, or Inspiration. Nominees do not have to be members of the JHSC but must have made a significant contribution to the Club. Nominees for the JHSC Hall of Fame may be submitted at any time.
Nominate someone to the Hall of Fame   
We invite community members to nominate individuals to the 2026 Hall of Fame. 
Were you or someone you know in the JHSC?  We are taking steps to establish more alumni outreach and a JHSC Alumni Association. If you or someone you know is an alumni athlete, family, staff member, and/or coach, please click HERE to fill out a simple questionnaire and join the JHSC Alumni Association.