February 25, 2020 - 4:16pm
Value of the Month: COMPETITION
Competition is about learning to perform rather than focusing on results. This involves the whole process of preparation as both an athlete and a person. The greatest competitor is one who is best prepared for anything. A true competitive spirit is shown in exhibiting the ability to perform - on-demand, when it counts - and incorporating all that has been learned. Competition as a value is more about the behaviors and attitudes that lead to doing one's best and reaching one's highest potential in all things. 
How did each program prepare for

COMPETITION in March? 

Student-athletes prepared to leave it all on the line during COMPETITION season. Unfortunately, many of these competitions were cancelled, but below, see what each program's season worked toward throughout the season. 
ALPINE
There are lots of ways the Alpine racers prepared to culminate their seasons in competition in March. The U10s and U12s had Intermountain Championships at Bogus Basin March 13-15. The U14s had Western Region Championships at Mammoth Mountain March 17-21. The U14s and U16s had Tri-Divisonal Championships at Big Sky March 19-21. Inter-Mountain Division Finals were scheduled in Sundance from March 21-22 to include U16s and younger. The U16s had their Western Regional Championships at Schweitzer March 10-13 and Nationals at Sugarloaf April 1-5. The FIS team had NorAm Finals in Panorama March 16-23, Western Region Junior Championships at Jackson March 17-22, and US Nationals at Aspen March 28-31.
NORDIC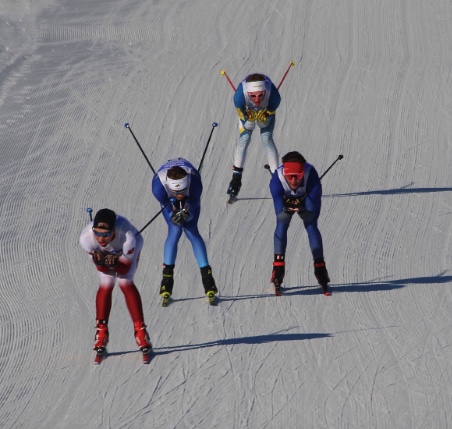 All the hard work the Nordic Teams have put into their training was supposed to come together in March. Qualified Comp and Prep Team athletes went to Nationals at Truckee March 7-14 before being sent home half way through the competition, and Western Club Championships were scheduled at Soldier Hollow March 14-15.. The Junior Team had Intermountain Youth Championships at McCall February 29-March 1. 
FREERIDE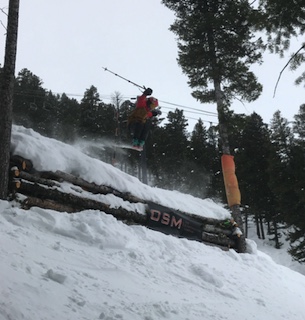 There were a lot of opportunities for the Freeride athletes to put it on the line in competitions this Championship season. There were IFSA Nationals at Big Sky March 5-8, Snowbird March 11-15, and Crystal March 11-15. USASA Snowboard Nationals were scheduled at Copper March 28-April 6 and USASA Ski Nationals are at Copper April 3-11. 
BACKCOUNTRY
For the backcountry program, competition is a bit more internal. Throughout the season, athletes competed with themselves when they started getting thoughts like "I can't make it to the top". They competed to keep their egos in check on a big powder day that is high avalanche danger. In future seasons, the backcountry program looks to incorporate rando and ski mo races. 
~~~~~~~~~~~~
Athlete Spotlight: Paralympic Gold Medalist, Brenna Huckaby, on COMPETITION
This month's Value of the Month is competition. How has competition influenced your snowboarding career?
I love to compete. I grew up competing in gymnastics and am naturally competitive. Recently, it became an inhibitor. I got focused on winning; it consumed me and created anxiety. I realized the importance of having fun, pushing myself to see how far I could go. Ultimately, I realized that it's about competing with myself, and that's my new focus. 
What is a challenge you encountered during your career as an athlete, and how did you overcome it? 
I wouldn't have had a career in snowboarding without the challenge of losing my leg to cancer. After amputation, the hospital sent me on a rehabilitation trip to Park City where I learned to snowboard for the first time. Snowboarding reminded me of being on a balance beam, and I found freedom in the challenge. From there, I continued pursuing snowboarding because I was so determined to be good at it. Snowboarding gave me the opportunity to not be great at something in the beginning but work towards an overall goal of being great. 
What's one piece of advice you have for up and coming JHSC athletes?
It doesn't matter where you finish; it matters who you are at the finish line. 
Bio
Brenna is married to JHSC Snowboard Program Director, Tristan Clegg. Huckaby made her Paralympic debut at the Paralympic Winter Games PyeongChang 2018, winning gold in both snowboardcross and banked slalom in the LL1 classification. She owns four world championship medals; gold in snowboardcross and silver in banked slalom from 2015, and gold in both from 2017. In 2018, she received an ESPY Award in the Best Female with a Disability category and later became the first athlete with a disability to pose in Sports Illustrated Swimsuit