2018 Freeride Junior World Championships - Kappl, Austria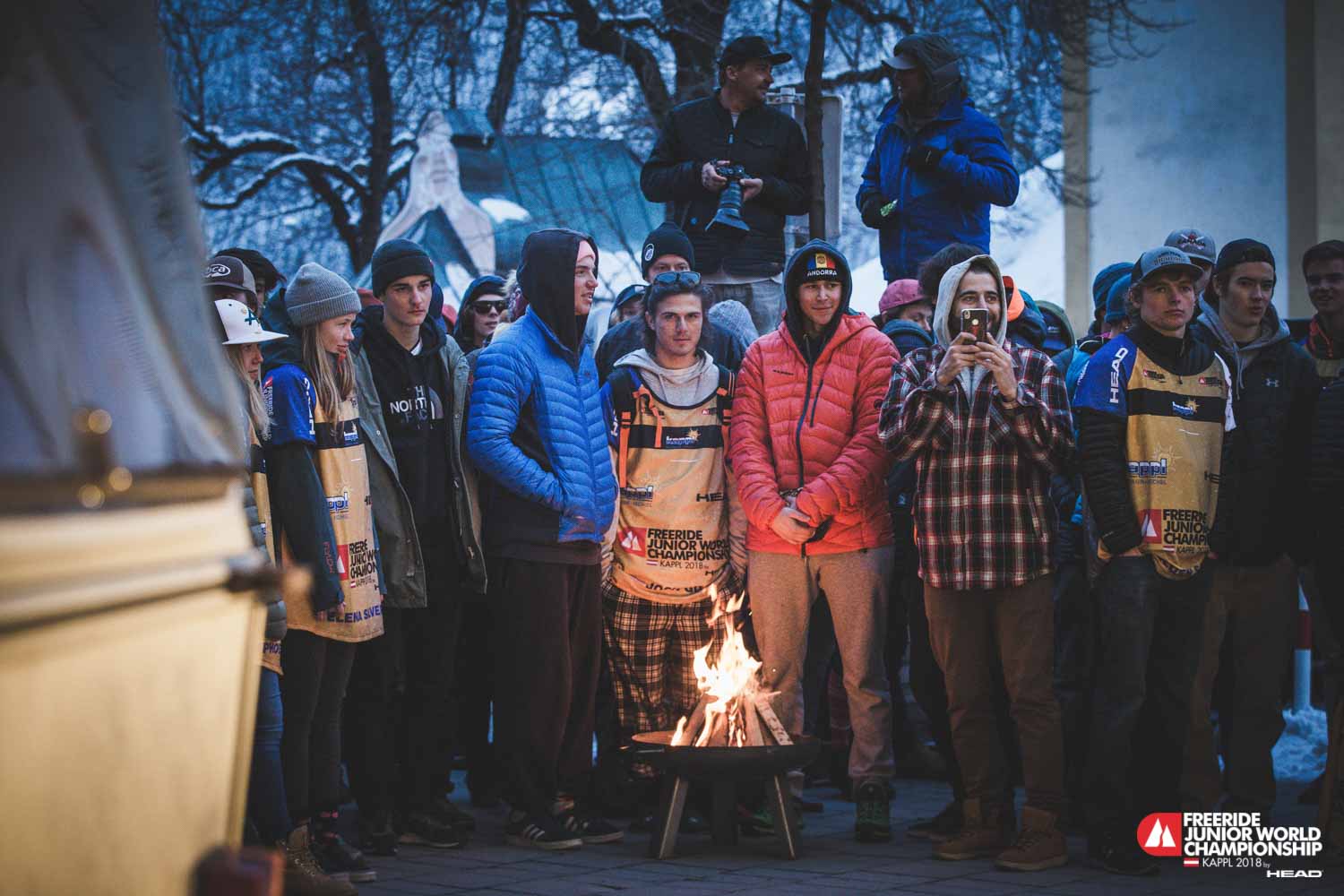 Last November I got an email from Tara, the mother of Will Mercer, one of our Freeride Team athletes who's been dedicated to the "Freeride" competition circuit. Freeride competition is what used to be referred to as "Extreme" or "Big Mountain" competition, where riders use natural terrain as the course or "Venue" as we call it today. The email was an invitation for Will to the Junior World Championship of Freeride, a invitation only contest in Kappl, Austria, for competitors from all around the world who have the best standing from the previous season. Will had finished the following season in 8th place for North America. They invite the top 5, so we weren't expecting the invite. 
After a quick discussion Tara said it's a go and we suddenly realized we would go to Austria in March. Trip planning and other freeride comps aside, there was plenty to do to get ready. For me, this was mainly, trying to figure out what the venue might look like and how to prepare. This competition would be "visual inspection" only, in direct contrast to the competitions Will usually competed on. In the qualifying events held in the USA, the riders get to side slip down the venue, closely inspecting each bump, rock, tree, cliff along the way. Visual inspection means you only get to look at it from an opposing slope, or in photographs. Nobody gets on the slope before the competition. This leaves the slope as untouched as possible for the competition, with the intention of keeping the snow as fresh as possible, and challenging the riders to find their way down from memory, requiring an ability to visualize the run opposite from what you see in pictures or memory. A rider needs to be able to see the run from afar and pick out features as landmarks, using them to make decisions in the moment on the way down. 
| | |
| --- | --- |
| | |
I found a bunch of videos from a Freeride World Tour event held at the same mountain in 2014 and started watching them, learning the way that the best riders rode the mountain. I shared a few with Will, sent some pictures his way and asked him to study them. 
On March 18th we left Jackson Hole Airport, connected in Denver and landed in Munich, Germany at 10:00 am. We dragged our board bags out of the airport, across the large central courtyard and into and downward into the train platform to catch the train to Munich Central Station. From there, we'd take a train to Innsbruck Austria and on to Landeck-Zams. From there we'd jump in a cab for the last 30Km ride to Kappl, the small mountain town and resort where the event would be held.  Arriving in Kappl "Zentrum" felt great after a long journey, and we immediately entered a buzzing room full of contest administrators, athletes, parents and coaches. We checked in, were handed credentials and a lift pass and instructions to our lodging. We would stay in "Haus WildBach" or the "Wild River House".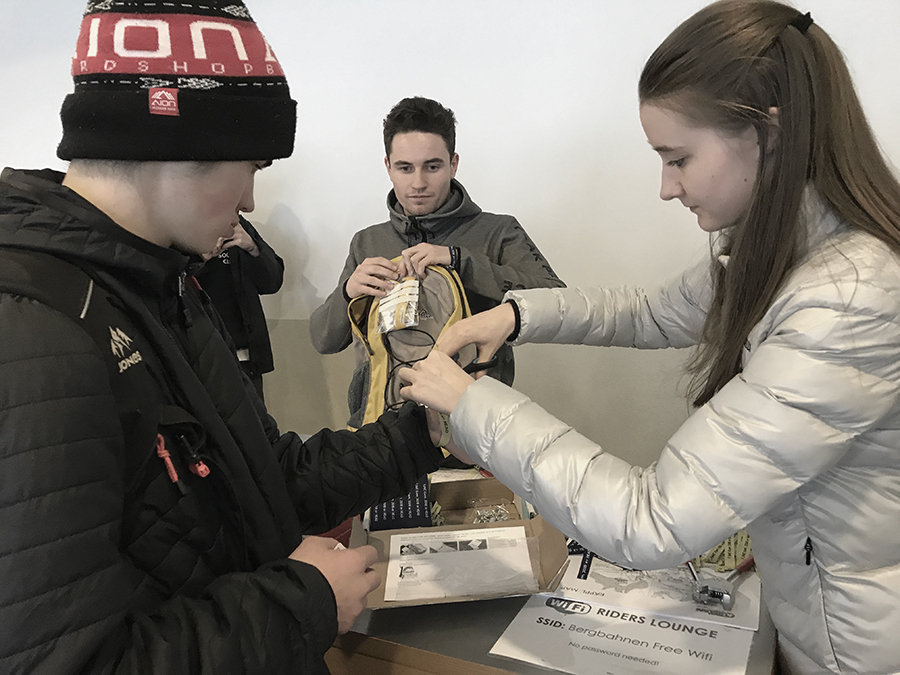 Before we would make it there though, we would attend the first riders meeting where the people running the event introduced themselves, the judges and drew bibs, establishing the start order for the event, and telling us that there were 3 potential venues and they had not chosen one yet. We had only studied "Venue A". We hoped they would choose this one. After the rider meeting, we all gathered out front and they held an opening ceremony where they displayed the national flag of each nation and invited the skiers and snowboarders from that nation up onto the stage to introduce them as a team. Team USA looked great up there and it left us with the realization that we were there representing more than ourselves, or Jackson Hole Freeride Program. 
We missed the bus the first morning, so we walked the 3Km walk back down to the center where breakfast was served. Then we caught the gondola up to the base of the resort and we started taking lifts to the top so we could get a first look at the mountain Will would be competing on. Little did we know there was 12" of fresh snow and the clouds were breaking, presenting us with a sunny powder day in the Alps. Welcome to Austria Will! Lets just say we partied on snow for a couple hours, taking a good look at the venue each run, and trying not to beat ourselves down too hard before the contest. We woke up the next day eager to get back up there, hoping the afternoon storm that had come in left fresh tracks again to be had. Just as we got back up to the top, we received a "WhatsApp" group message letting us know that Venue A was the chosen venue, that the weather was shaping up to be clear the following day and that the contest was now officially on for Thursday. We took a few more runs, exploring more of the mountain and then decided to take it easy saving some energy for the early start we would have the following day. 
| | |
| --- | --- |
| Athlete Will Mercer - Kappl, Austria | Coach - Lance Pitman |
4:30 AM came quickly. We were wide awake though, and catching the 4:50 shuttle got us to breakfast with lots of time to eat and get ready for competition. We loaded the Gondola at 6 and at 7 AM we all met at the top of the "Alblittkopfbahn" chairlift for one more rider meeting visual inspection before we began the hike up the ridge to the peak where the comp would start. The scene at the top felt intense as the Helicopter hovered over the ridge, dropping the start gate, yet to be secured. Once the gate was in place, the competition was ready to begin, and snowboard men were there first to go. Guys from Switzerland, France, New Zealand, Mexico, Spain, Great Britain and more all crowded the start gate.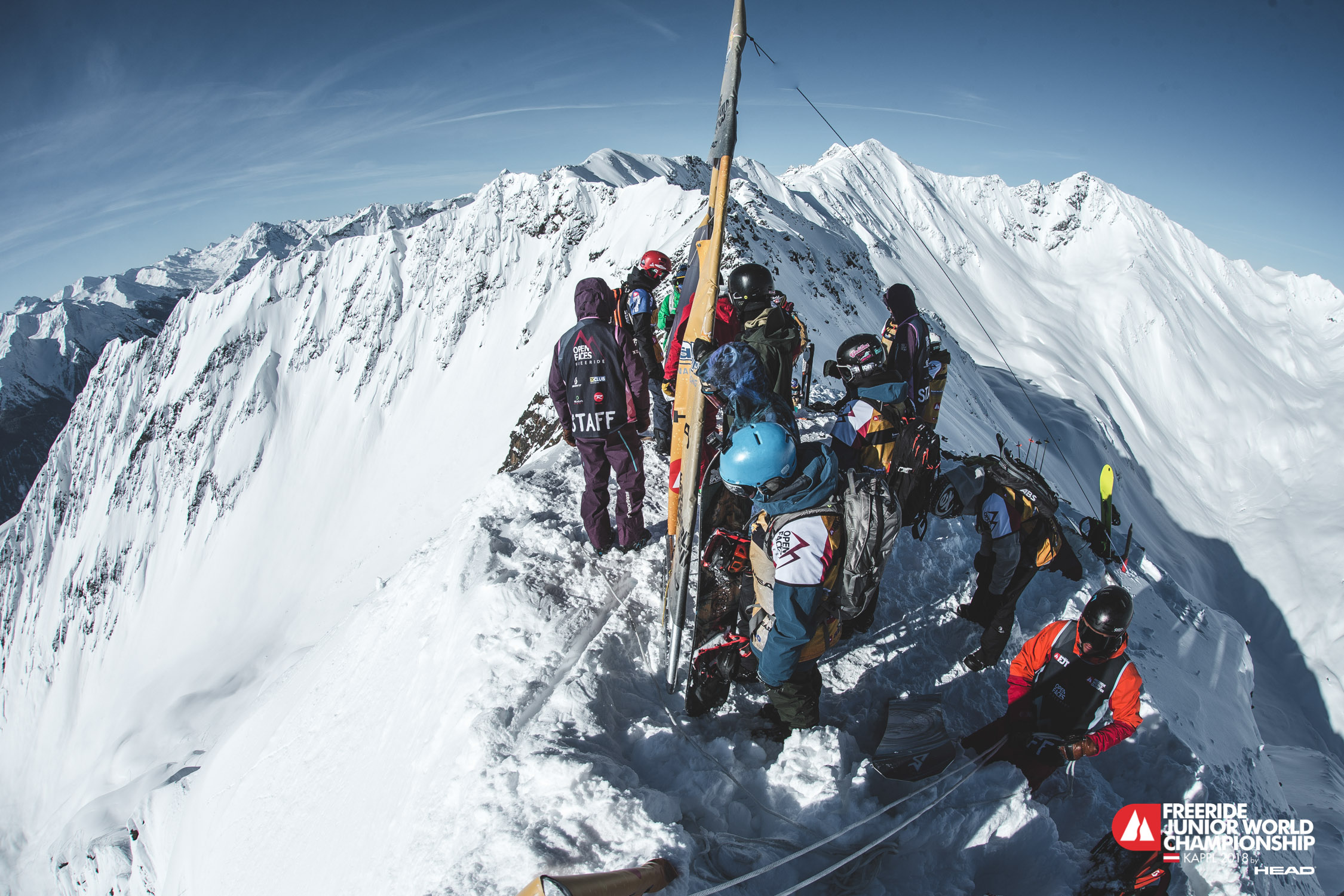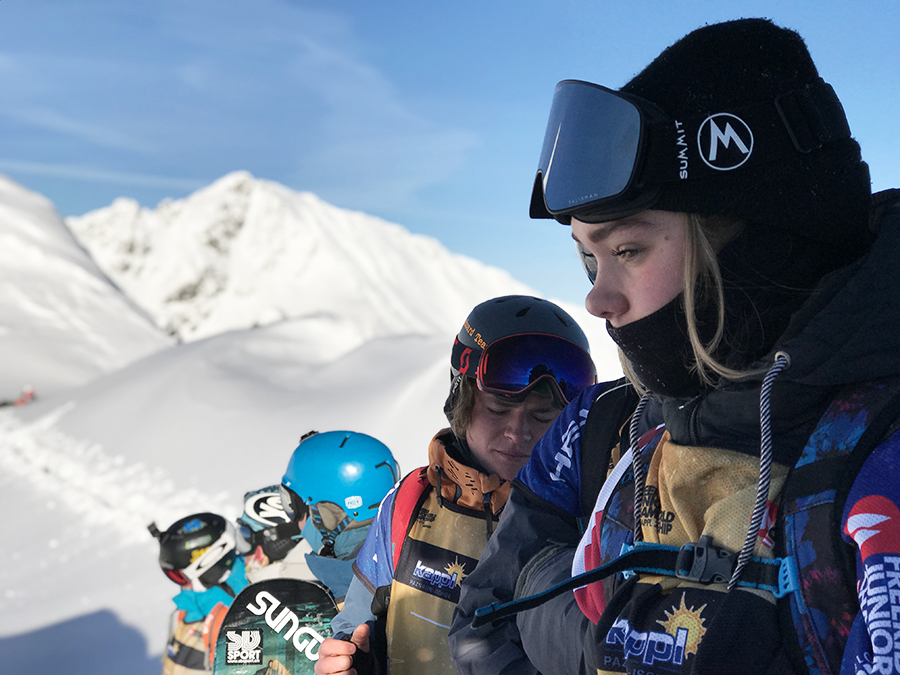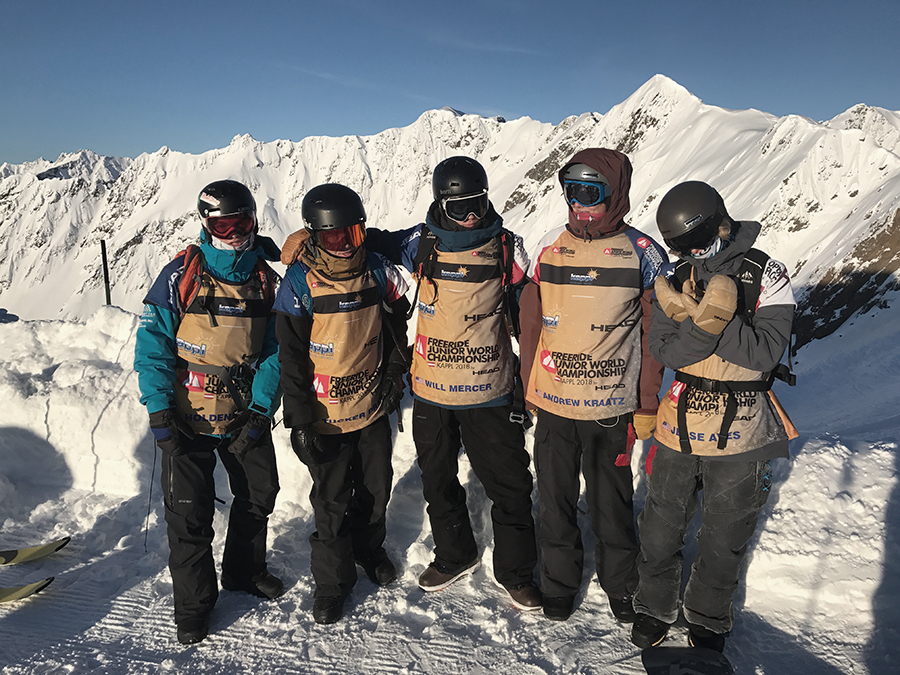 It was a great day for all the US guys and the feeling of camaraderie peaked when 
Team USA swept the podium for snowboard men. 
To watch the comp https://jhskiclub.org/worlds
Kirkwood National IFSA 2018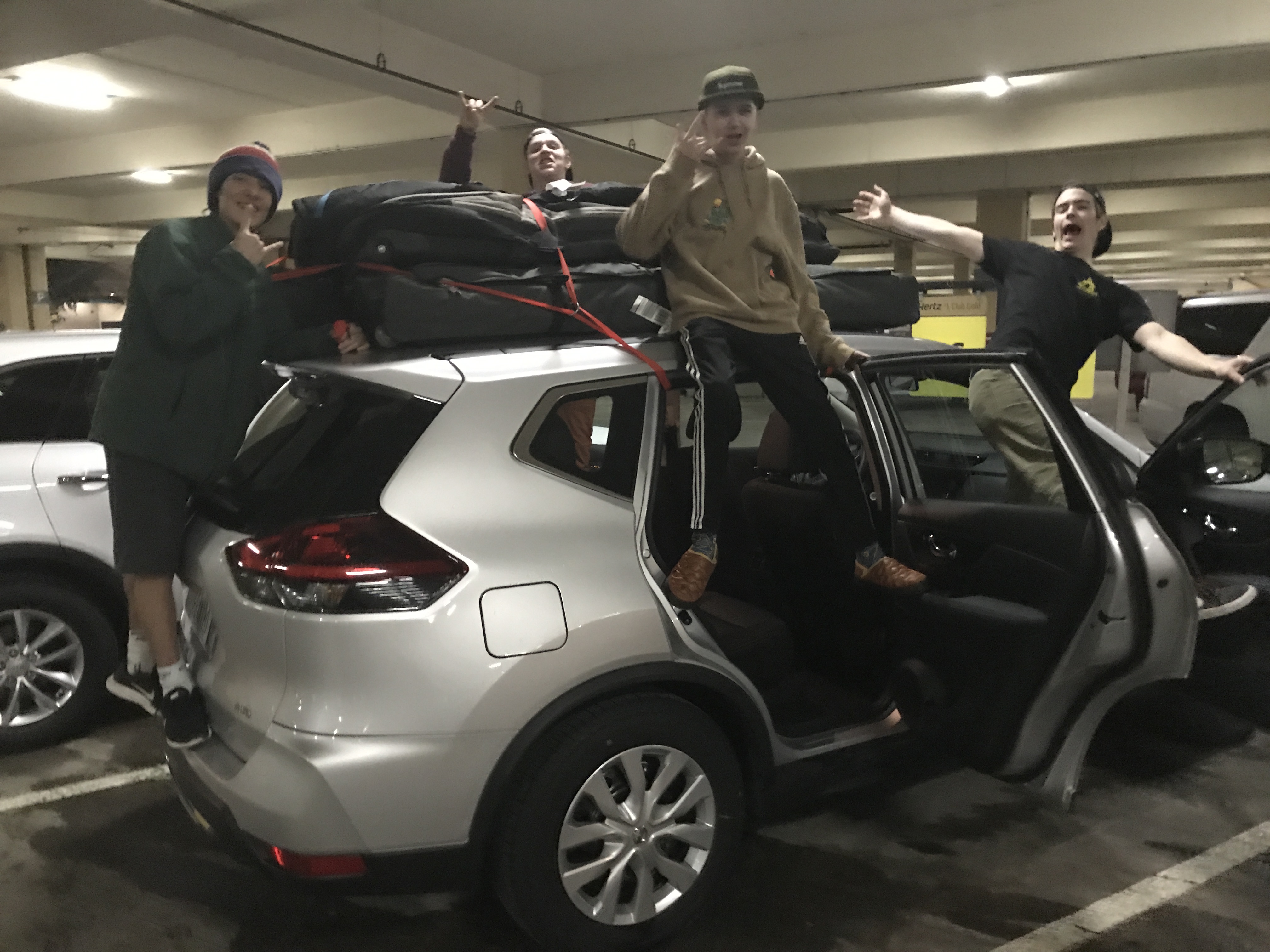 | | |
| --- | --- |
| | |
| | |
Results: Leo Zolik 5th, Will Mercer 4th
Snowbird National IFSA 2018
Tucker Carr, Ronin Zell, Steven Bailey, Ellie Armstrong.
The conditions were once again, all time at Snowbird with over a foot of fresh snow the day before the event. With a couple quick inspection laps through Silver Fox we were all confident in our line choices leading up to the first day of competition. Ronin and Steven had the pleasure of being amongst the first groups to go and enjoyed some incredible snow conditions on the rider's right hand side of the venue. They both executed very clean lines and had fun with the exceptional conditions. Tucker also put down a great qualifying run with a nice shifty of his top air and a technical exit on the exposed "mustachio" shelf. Ellie Armstrong did her qualifiying run that afternoon and linked together multiple features a fast exit through technical and exposed terrain on the Mustachio shelf.
Both Steven and Ronin qualified in 3 rd and 4 th place respectively, while Tucker had the unfortunate luck of being the first person on a deep cut list. Of the 49 competitors in Tucker's field he finished 28 th and only the top 27 moved on to finals. Although it was disappointing Tucker displayed great sportsmanship admitting that he could have performed better and still making the most of the trip as a great learning opportunity. Ellie's results put her in medal contention with a 5 th place merely a fraction of a point separating the top five 15-18 female freeskiers.

Saturday was a bit of a rest day after two early mornings in a row. We made it out for some afternoon storm shredding and although there was limited terrain open, the snow did not disappoint. We found some fun chutes in the Cirque and all racked up our sky miles with some airtime and soft landings. Finals day was an extremely early morning with Cottonwood Canyon's road closure we had to be at Snowbird at 6 am. We arrived to a dark registration room with freeriders strewn about, mostly curled up on the floors and benches attempting to get any addition shut eye before the big day. A while later we boarded an early
Tram for another deep morning inspection. Ronin and Steven were again the first to put down clean runs on the soft right and side of the venue. Steve incorporated a big slash, and a couple airs with grabs to help move him up in the rankings. Ronin made quick work of the steep terrain and attacked the fall line from top to bottom.
Late in the afternoon Ellie did her finals run and skied very fluidly until her exit air where she landed slightly off her mark and took a quick tumble. At the awards ceremony all the athletes were in good spirits cheering each other on and the team was proud to bring home some hardware with both Steven and Ronin earning second place finishes at this event.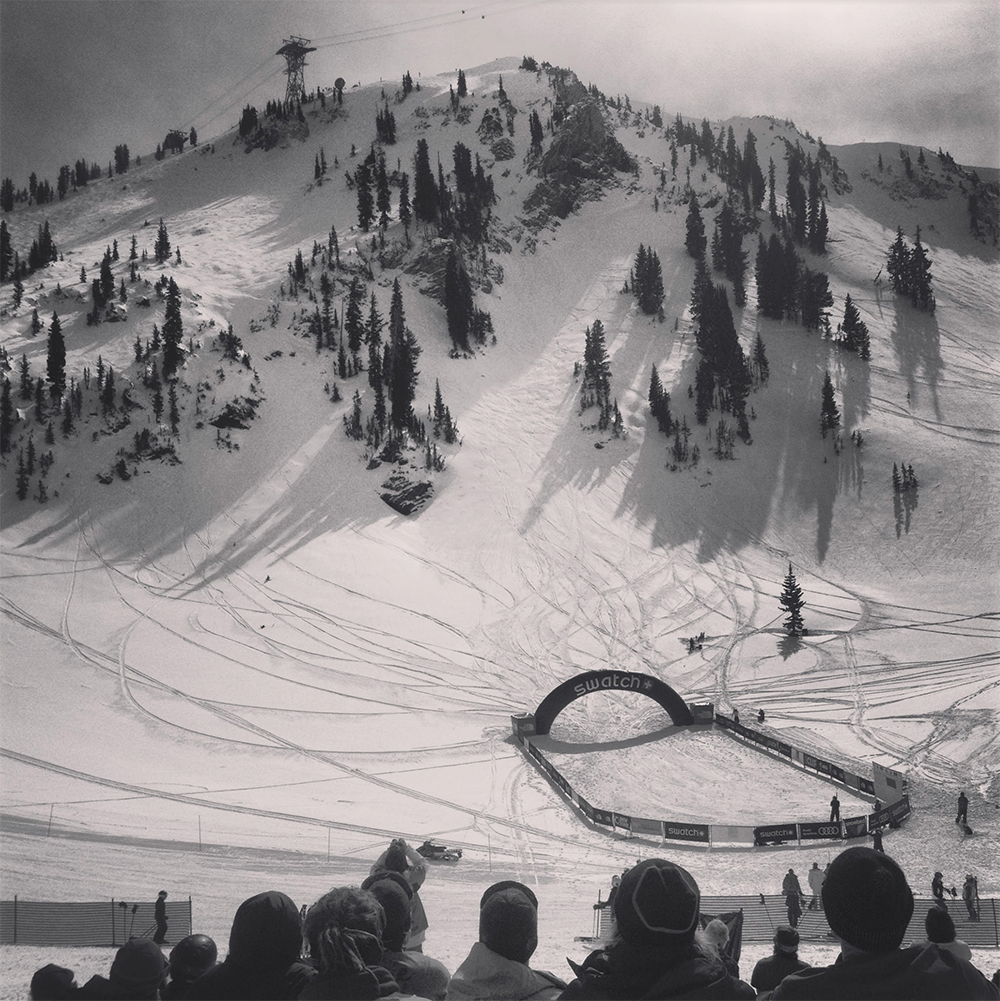 Big Sky Regional IFSA
March 9-11, 2018
We left early Friday morning North for Big Sky, MT for the final regional IFSA competition of the season. We had two snowboarders –Ronin Suclla Zell and Marvin
Martell; and two skiers –Bennett Balough and Tucker Carr. Friday was the official inspection day, but we had a couple of hours to shred before
the venue was open so we headed to the top of Lone Peak.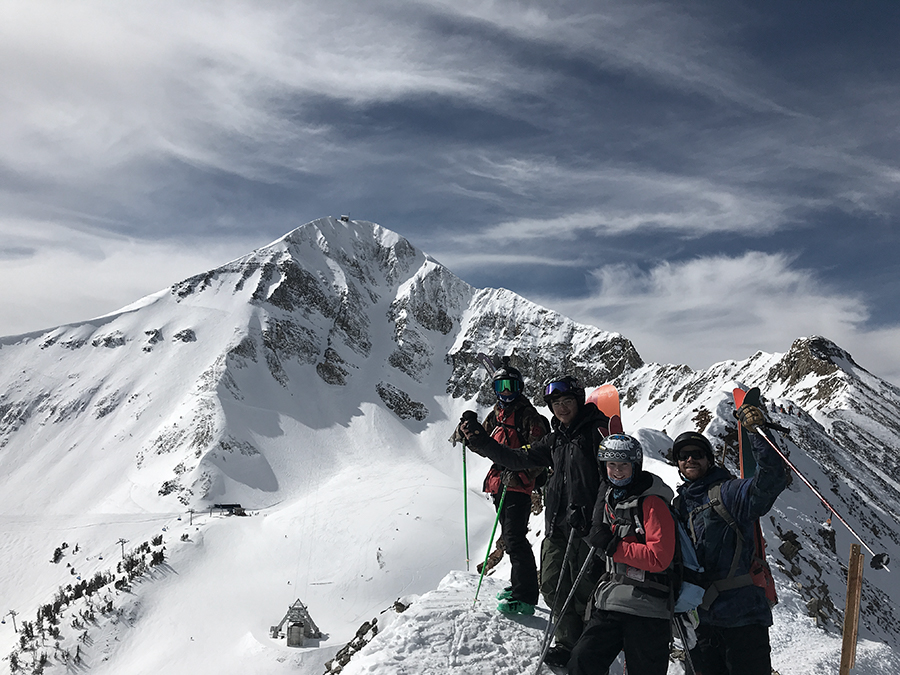 With patchy clouds and a skiff of new snow we took in the view while waiting our turn to descend the Snowfields. The groups rode together down the steep chalky face about 800 vertical
feet and then traversed above a scree field where we split up and charged the last 500 vertical foot chutes before we were back into the groomed terrain below.
The venue was a short 15 minute hike from the top of the lift and we took two runs through looking for every turn, bump, and drop that caught our eye. When all of the
crew had a very good plan for their competition runs we headed toward the base of the mountain to call it a day. The evening came to a close after some time in the
pool and take-out pizza for the hotel room.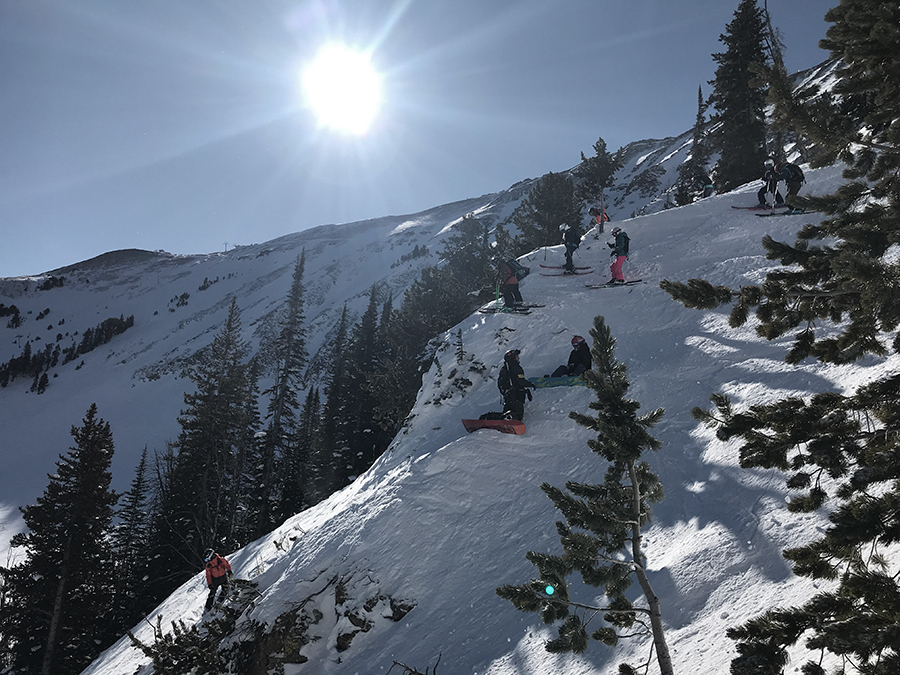 Saturday the conditions were perfect with clear skies and temps in the low 30's. The snowboarders both put down solid runs with Ronin barely edging out Marvin
for 2 nd place. The skiers both executed runs with four features packed in them, but a couple minor mistakes left Bennet a few places behind the 50% cut for the Finals.
On Sunday the conditions were much firmer after the first day of competition. Bennett was eager to rebate his line and the judges were glad to have him forerun
the course before any of the competitors. His run was much cleaner than the first day and he knew that there will be a sweet revenge to be had at the event in 2019.
Marvin added a nice cliff drop into his line and rode very smoothly minus one small bobble in the bumpy choke. Ronin also chose a smooth line, but had a bit of trouble
staying balanced in the top choppy entrance. Tucker, sitting in eighth place, knew he wanted to improve his performance and put down the line that he knew he could.
Without hesitation, he skied top to bottom linking features and shifty-ing every air showcasing his composure and style.
After the boys finished their runs we hiked up the ridge to the Headwaters and took a lap through the "Fire Hole." We made it t the bottom just in time to watch the top
five 15-18 year old ski male competitors flash the Three Forks venue. With a couple hours before the awards, everyone agreed we should explore the other side of the
mountain and we naturally found our way to the terrain park. With a few runs under our boards we headed back for the awards ceremony and celebrated a great
weekend of travel, adventure, and competition.
Results:
Ronin Suclla Zell 2 nd
Marvin Martell 3 rd
Tucker Carr 6 th
Bennett Balough – 17 th
Avy 100 Class
Over the weekend of March 9th to March 11th 8 of our JHSC Athletes attended the inaugural Jackson Hole Ski & Snowboard Club Avalanche 1 Course conducted by the American Avalanche Institute (AAI) and accompanied by Freeski Coach Kevin Bradford. Our guides Brendan Cronin and Aaron Diamond were amazingly knowledgable and did a great job bringing a huge amount of information to our athletes in an understandable format. Attending athletes were skiers Juliana Guttierez, Tommy Berner, James Stafford, Jackson Santomauro, Jeremy Emmer, Alex Coosaia, Jake Coosaia and snowboarder Collin Schubert.
Day 1 started with 4 hours of classroom time at Snow King. We began by going over a few scenarios that had tragic endings to set the tone for a weekend of learning and humility. After analyzing the decision making processes involved in skiing the backcountry, we took the afternoon to practice beacon searches, probing and strategic shoveling in the BCA Beacon Park at the base of Snow King. Everyone showed a great foundation for these skills and we ended the day eager to learn more.
Day 2 was the much anticipated ski touring day on Teton Pass. We awoke to 4 inches of fresh powder and sunny skies! After going over our plan for the day and checking the functionality of our beacons, we set off in 2 groups from the top parking lot at Teton Pass and toured south along Pass Ridge towards Olympic Bowl. After a brief discussion, we made some fresh turns through the trees and found a nice spot to dig a snow pit from which we could do stability tests. We learned 3 basic stability tests, the shear test (ST), the compression test (CT) and the extended column test (ECT). Combining this with a hand hardness test allowed us to get a comprehensive look at the snowpack and apply a scientific method to assessing its stability. After our stability tests everyone had the opportunity to break trail back to the car, in the process we learned where and how to set a skin track in the backcountry.
Day 3 was about bringing it all together and applying it to our decision making. We began with an informative presentation on the human factors that lead to avalanche accidents. This gave everyone something to think about during lunch, after which we discovered that we had a mock avalanche scenario outside. Everyone geared up to head over to the "accident" and we discovered that we had 3 "victims" and one very disoriented Brendan Cronin, who gave us the information we would need to "rescue" everyone. Teamwork was the name of the game here, and older athletes took charge, delegating responsibilities to their younger partners while leading the beacon search as well. Everyone involved showed that they had learned the skills needed and they were able to extricate all 3 "victims" in a respectable time of 10 minutes. Afterwards, due to all the excitement, AAI Guide Aaron Diamond "collapsed" and required us to load him on a backcountry rescue sled to transport him to a better location. Again, older athletes took charge and delegated responsibilities to their younger teammates and we were able to drag Aaron across the snow all the way to Snow King Drive.
The 2nd half of Day 3 took place on top of Snow King, where the athletes were tasked with digging their own snow pits and doing their own stability tests. We found very unstable snow here compared to Teton Pass, and everyone was able to see what faceted snow looks like under a magnifying loupe. For the final hour of our class Aaron presented us with 5 different ski touring plans that included such factors as partners, objectives, weather and snow stability. The athletes were then asked to answer "GO" or "NO-GO" based on all this information. It was this exercise that really challenged everyone to use all the skills they had learned over the 3 day course and apply it to serious decisions. Everyone showed an excellent understanding of the factors involved in these decisions and made informed arguments supporting their opinions. 
A huge thanks goes out to JHSC Alpine Coach Lindsay Mann and AAI owner Sarah Carpenter for putting this course together. JHSC would also like to extend a thank you to our very knowledgable guides Brendan Cronin and Aaron Diamond for presenting all this information in a way that was understandable and relatable to our athletes. Lastly, a big thanks goes out to Wilson Backcountry Sports and Teton Backcountry Rentals for giving our athletes discounts on ski touring and avalanche gear. We are all very excited to make this Avy 1 Course a yearly option for all JHSC Athletes at an affordable rate!