February 27, 2020 - 9:11am
Freeride

Program Coach Veronica Paulsen is crowned Queen of Corbet's & the first women ever to land a

backflip

into the Couloir!!
Event Recaps:
Sun Valley USASA January 29 - February 2
Our first USASA event of the season is in the books! The Freeride Program traveled to Sun Valley for a long weekend of Boarder-cross and Slopestyle. Snowboard coach Randy and Ski coach Collin packed up the van Wednesday, and headed out on the 5 hour drive to the town of Ketchum, home of Sun Valley resort. 
On day 1 the slopes lived up to their name with beautiful bluebird conditions and lots of sun. Boarder-cross was first up, and the athletes had a great time pumping the rollers and picking lines in the bermed courses. The event organizers snuck in 2 races each for the first 2 days. This gave our athletes a ton of time on course and made for an action packed start to our competition season! After competition each day the athletes (and coaches) were very excited to ski Dollar Mountain's awesome terrain parks and get ready for Day 3 and 4 of Slopestyle.
Day 3 was our first Slopestyle event. The venue was very well built and all the athletes put on a pretty impressive showing! This event was a great opportunity for our athletes to test themselves on bigger jumps and against stiff competition. Unfortunately on day 4 our luck ran out and in place of Sun we were met with heavy snow and flat light. Our athletes pushed through and even improved their runs day 2. 
Overall Sun Valley was a very successful weekend of competition. We are now in the heart of competition season, with events the next few weeks back to back its going to a busy couple months for the Freeride program!
Grand Targhee IFSA National February 6-9
Had a crew of athletes SEND some big lines at this years IFSA National at Targhee. Braved through the inclement weather and faired well. Congrats to all JHSC athletes who made the trek and competed well. Special congrats to riders Ronin Zell and Neo Emery for each winning their age groups! You can watch Neo's HUGE cliff drop below.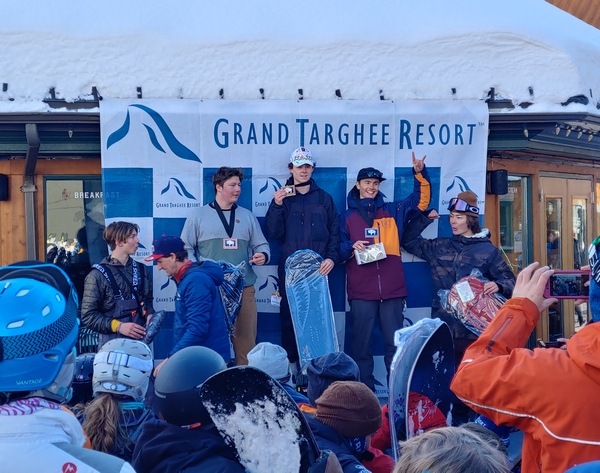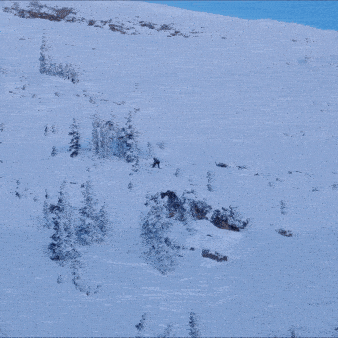 First-Ever Snow King IFSA Regional Feb 14-16
Nearly 90 competitors were registered for the inaugural Snow King IFSA Regional event.  The conditions were perfect with a couple inches of fresh snow for the Finals on Sunday.  The event was held under the Summit Lift line on the famed Exhibition run.  The naturally steep terrain was enhanced this summer to include a couple key log drops and a few other opportunities for airtime on the perimeter of the venue.  The event was well received by all competitors and spectators and has been added to the schedule for President's Weekend of the 2021 season!
13th Annual Wednesday Night Lights Rail Jam Series
The Freeride program saw a record breaking turnout of competitors for this long standing event series.  Each week we saw over 70 competitors running up the hill to get as many runs as possible during their heats.  The conditions ranged from mid-winter snowy & bitter cold to gorgeous sunsets and mild temps. Every week the top three from each division were recognized on the podium, not forgetting the standouts with the "Bressler Insulation - Best Trick Award." In the end, three overall Series Champions were crowned for their consistent performance in large fields at each event. This event is made possible thanks to our sponsors:
Avalon 7
Thai Me Up Restaurant & Brewery
Hoback Sports
Atomic
Sego Skis
Gather in Jackson Hole
Remind Insoles
Stormshow Studios
Smith Optics
Snow King Mountain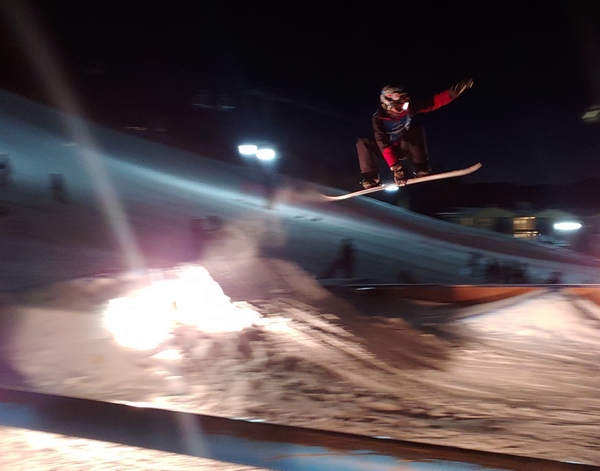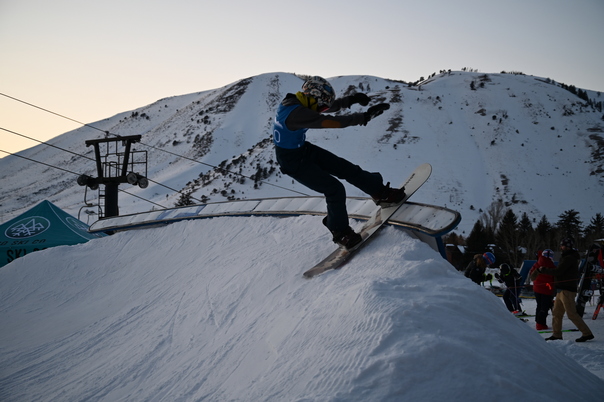 Grand Targhee USASA February 21-23
Grand Targhee hosted our final USASA Regional event of the season this past weekend. Friday February 21st we loaded up the athletes and commuted across Teton pass for a practice day. Targhee's park crew does an amazing job building and maintaining a slopestyle and rail jam course. Athletes and coaches were excited to give it a go!
On Day 2 the weather was sunny and clear, perfect for a slopestyle event. Over the 3 days at Targhee we lucked out with sun every single day. The athletes all pushed themselves on bigger than usual jumps, and in the end everybody learned something new. Several JHSC athletes even ended up on the podium!
Day 3 was the rail jam. The setup was great for riders of all levels. Our athletes had a great showing with lots of new tricks from everyone. At the end of the event JHSC athletes podiumed in both disciplines and everybody had a great time!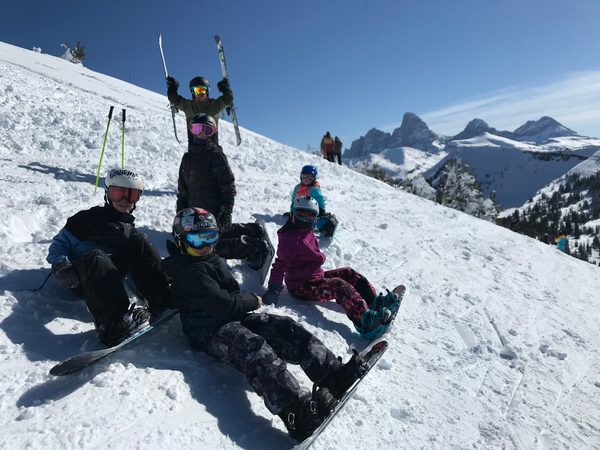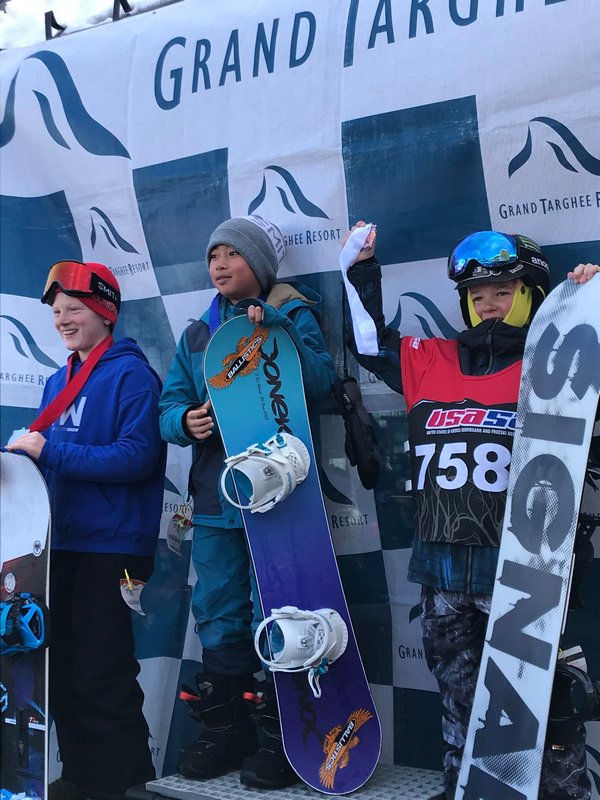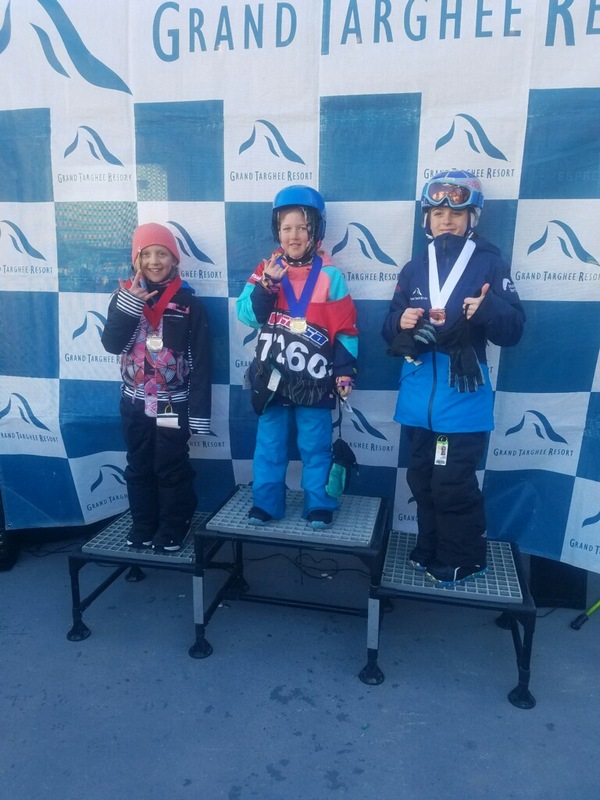 Try the Club Day
The Freeride Program welcomed 14 new participants to ski and snowboard with the team on President's Day.  We were glad to share a slice of our training routines with a promising batch of young athletes. Excited to do it again next year! 
College & Career Pathways Panel discussion with Head Coach Tristan Clegg and wife Brenna Huckaby
A few athletes and parents were lucky to hear some inspiring words from Old-man Tristan, his wife Brenna, and a handful of other rock-star JHSC Staff at the recent Parent education Series.  Themes of the night included: Student /Athlete balance and time management, overcoming challenges in life through our experiences in sport, and what skiing and snowboarding through College/ post high school years looks like for a variety of people.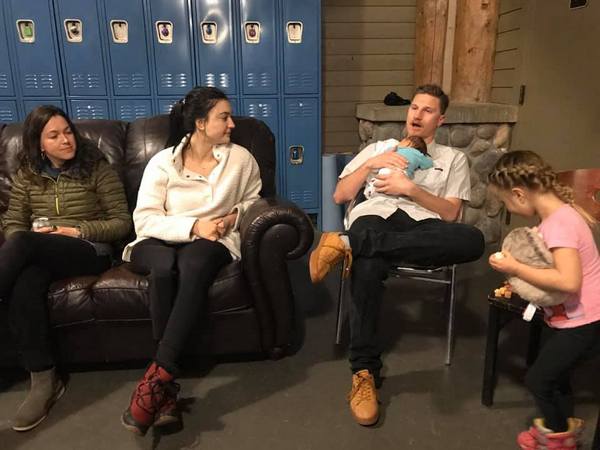 Dick's Ditch 2020
What a killer comp! Was fast, fun, and was the most participation we have had from skiers and snowboarders from the club! Congrats to everyone who made it down the famed ditch, and a special congrats to our athletes and coaches who made it onto the podium!
Neo Emery - 3rd (Men's Amateur 14-19)
Parker Gotham - 2nd (

Groms

11-13)
Erica Bowditch - 1st (Women's Amateur 14-19)
Miles

Huseby

- 2nd (Men's Amateur 14-19)
Joseph

DiMarco

 - 3rd (Men's Amateur 14-19)
Tami
Razinger
- 3rd (Women's Pro)
Stosh
Czarniak
- 3rd (Men's Pro) Coach T - 2nd (Men's Amateur 20-39) Aaron
Hallenback
 - 2nd (Men's Pro)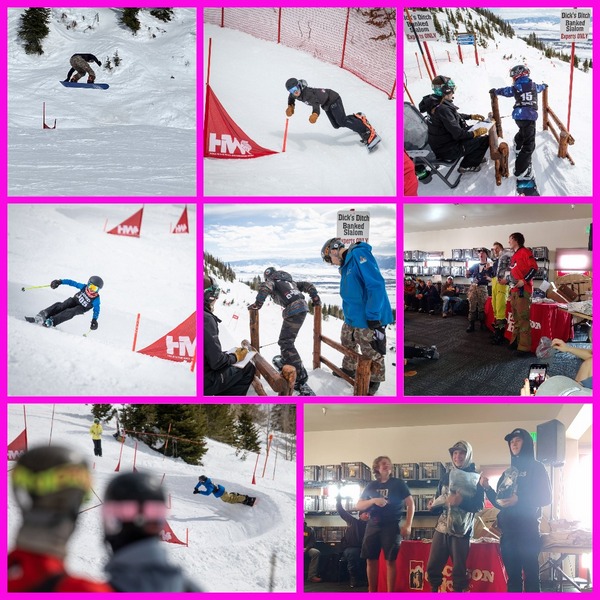 Big Sky IFSA National March 4th - 8th - Facebook Link to Photos here.
We had an outstanding season competing against other teams in the IFSA venue. Looking back on the Big Sky National, athletes showcased their best riding in challenging conditions, representing the Jackson style with smooth riding and clean stomps. As coaches, we look for quality line choice and planning to find appropriate terrain for the conditions. The athletes exceeded our expectations showing off their fluidity, control, technique and style. The qualifying venue was wide open with minimal terrain options forcing riders to use their skills to find creative lines while keeping the challenges they chose within their skill level. On that day clean riding was rewarded and mistakes were obvious.
Moving on to the finals venue, the younger athletes competed on the same slope as the 15-18 year old at the famed "Obsidian"  is just a short 15 minute hike up form the chairlift.  This venue is presented a greater challenge with steeper more technical terrain and lots of features. The snow was firm requiring controlled riding and the terrain allowed for bigger moves allowing higher scores. For the snowboarders in the 15-18 male category, Marvin Martel ended up with 12th place, Neo Emery finished in Fourth place. In the 12-14 snowboard male, Rye Web finished with 6th place and Jack Kilmain who usually skis, decided to compete on a snowboard, got 8th place. Tiernan Schuldt took home the top spot, winning 1st place with clean and controlled riding. For the skiers, Erica Bowditch had an unexpected bobble in her run, while Miles Huseby skied fast a clean, but did not advance to Day 2.  Jeremy Gries had a big jump in his score on the second day, and he moved up to 16th place in the 12-14 male category. Overall, a great learning experience for all athletes and lots of terrain to explore outside of the competition. We are looking forward to returning to Big Sky next year.
Miles Huseby finds the silver lining in a day of freeskiing and gets to make his mark on "the Big Couloir!"
A link to the professional photos from the event can be found here.
Crystal IFSA National March 10th - 16th
Our Crystal National trip consisted of four athletes and one coach.  We flew into Seattle, and after a few rental car hurdles, made our way to a neighboring town of the Crystal Resort.  The first day we got in we registered all the athletes for the IFSA event and then went and explored the mountain and scoped the venue for the comp.  It was the first time at Crystal for everyone in our group so we had a blast exploring new zones and seeing what the mountain had to offer.  The terrain was very different from what we normally experience in Jackson so we really enjoyed seeing snowy volcanoes and skiing above timberline. 
The rest of the trip got complicated because of the start of the Corona Virus concern.  Jeremy Gries and Rye Web, two of our four athletes, were able to put down their comp runs before the event was canceled.  We used the remaining days to continue to freeride and get a lot of fun laps in.  After two days of skiing and riding the resort completely shut down with two more days to go on our trip.  We still had a great time hanging in the house and watching shred movies and bonding.  We found some great hiking spots right around the house as well.  The kids did a great job of staying positive and making the best of the situation.  The team rolled with the punches very well and are all looking forward to trying this comp again next season.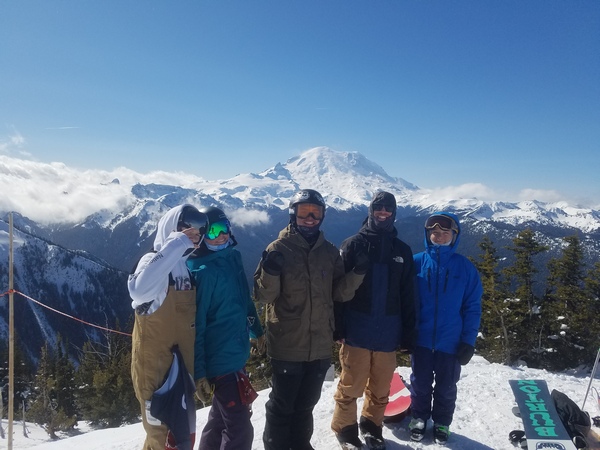 Snowbird IFSA Turned to Exploration of SLC! March 12th - 15th
We would be lying if we said we weren't a bit bummed about the Snowbird IFSA National being cancelled, but we made the best of it! Coach T showed the boys around Snowbird, the whole crew went to explore Woodward Park City, ate some great food in Salt Lake City and had fun all around. Was especially cool to celebrate Jake Burton's life by riding Woodward on Friday the 13th!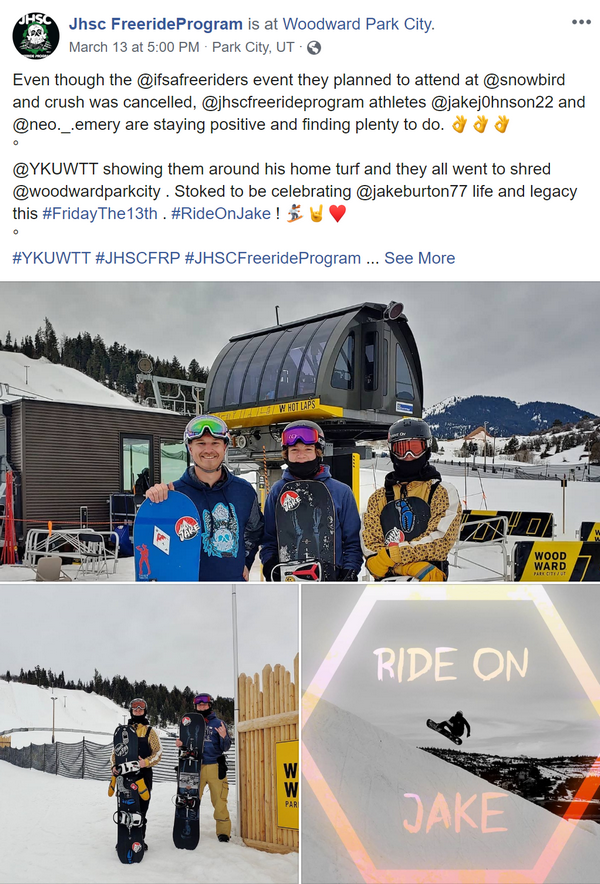 2019 /2020 Season Highlights
It was a busy season with an unexpectedly abrupt ending.  While we are experiencing an unusual Spring, there are many great things to look back on from this past season in the JHSC Freeride Program.  Here are a few stats about the 2019 / 20 season for the memory books:
Since May of 2019 we have hosted nine trips for competition & training.
Our athletes were involved in 18 separate Freeski / Snowboard competitions this Calendar year

Of those we celebrated 81 total podiums!

Of those podiums 29 were first place finishes!!

We hosted the first-ever Snow King IFSA Event, and it was a huge success!
Welcomed the record breaking participation at the 13th Annual Wednesday Night Lights Jam Series with 250 total competitors!!
We enjoyed the largest development team in Freeride Program history with 32 Shredders!
We feasted on catered lunch, with the luxury of prepaid meal tickets, just steps away from our team room in the AlpenRose Dining room
We had ski in / ski out access, a hook for everyone's belongings, and a much more inviting layout to our Alpenhof Team room.
We had more families participate in the preseason goal-setting meetings than ever before, with over 50% of the Freeride Program attending these chats.  
The Progression Plus Team spent all but three early release days at Jackson Hole Mountain Resort with an organized shuttle for pick-up and drop off.  
Our Hoody artwork was thoughtfully created by Freeride Program Team Captain Erica Bowditch.
Coach Stats
Tristan Clegg aka. "Coach T," welcomed his second daughter Sloan to the family on January 24, 2020.
Veronica Paulsen became the first woman to successfully back-flip into Corbet's Couloir.
Matt Newton and Collin Rehm skied the Middle Teton.
SpaceBalls: the Team, consisting of all FRP Coaches (Tristan Brown, Stosh Czarniak, Tami Razinger, Matt Newton, Rob LaPier & Tristan Clegg) finished 4th overall in the Pica's Margarita Cup.  
Tami Razinger, Stosh Czarniak, Tristan Clegg, & Aaron Hallenbeck all podiumed at the Dick's Ditch (still got it). 
Randy Strand, Nico Aguirre, Mike McNamara, Collin Rehm, Tami Razinger, Alex Islay, & Matt Newton all completed their USASA Level 100
Chris Mayers & Tristan Clegg completed the IFSA Level 200
All in all, it was certainly one to be remembered.  We are so thankful for the opportunity to work with all of the families that make up our program.  We hope to hear from you all in the weeks ahead.  
Live well, Stay safe, & Shred on!
Rob, Tristan & the Freeride Program Coaches.