Summer Camp Options:
Summer is right around the corner and it's time to make those summer camp plans! Contact us today about registering for one of our skate camps, or our Mount Hood trip to do some summer ski and snowboarding, skateboarding, water fall jumping and all around good times adventuring!
Early registration: $2300 ($500 non-refundable deposit due by May 8)
Late registration: $2500 ($500 non-refundable deposit due by May 29)
*Ages 10+ are permitted to travel and stay with the team.  
**Ages 8-9 are recommended to stay with their parents, but special exceptions may be granted on PD's approval.  
We will have access to the private camp features and the public park at Mt Hood as well as the upper mountain steep terrain.  In addition to the on snow facilities the afternoons will be filled with some of the following activities:
Skateboarding
Trampolining
Mountain Biking
Cliff Jumping / swimming
Early Registration Cost - $1,000 ($500 non-refundable deposit due by May 8)
Late Registration Cost - $1,200 ($500 non-refundable deposit due by May 29)
Camp 2: August 6-8
Early registration deadline July 26
It's Ramp training season!
Skiing and Snowboarding are not just a winter activity.  Have you ever wondered why certain athletes have such great jumping skills? The answer is "summer ramp training".  Ramp and Airbag training will greatly enhance your child's freestyle development.
New- Skate Camp 2.5 - last one with available spots!!

Championship Event Recaps:
1- North American Championships - IFSA
JHSC FRP Athletes Neo Emery and Ronin Zell and Ryan Glick qualified and attended. FRP Athlete Rye Web qualified but chose not to attend.  The competition consists of a qualifying day and a finals day, on two separate venues (runs). The riders must perform well enough on qualifying day to make the "cut" to finals day. The judging criteria are Line, Control, Fluidity, Technique, Style & Energy.  
Riders must choose a line that they think they can ride while scoring the highest in each of the categories. It starts with choosing a line, and then the rider must execute. Those two can be a difficult combination to master. It's often easy to execute a line that won't score as high, and often difficult to execute the line that scores higher, so it's a balancing act. Add to the mix the two day format, and strategy comes in to play, as a rider must not falter or they might be cut from the event. They can't hold back all together either, for they may not have a difficult enough line to get the points needed to advance. 
Ryan Glick, who competed in the 9-12 Girls Ski division came in 14th.
Both JHMR Snowboarders Neo and Ronin qualified for finals.
Ronin, in the 12-14 boys category qualified in 3rd place, and Neo qualified in 7th. The 12-14 qualifier was held on a run called "Marlies" and the 15-18 qualifier was held on a run called "Comptons". 
Finals were held on a much larger, steeper face called "Whitewall".  After finals runs were complete, both snowboarders finished in 6th place. Neo scored the highest run of all snowboarders on finals day and advanced one place. Ronin had a great run going, but gained a bit too much speed in a tricky spot and ended up crashing, knocking him back 3 spots to finish in 6th. 
All three riders were happy to have gotten the chance to compete, and happy to have landed some runs, and both riders are looking forward to heading back to Nor Ams next year, which will be held at Kirkwood Resort in California.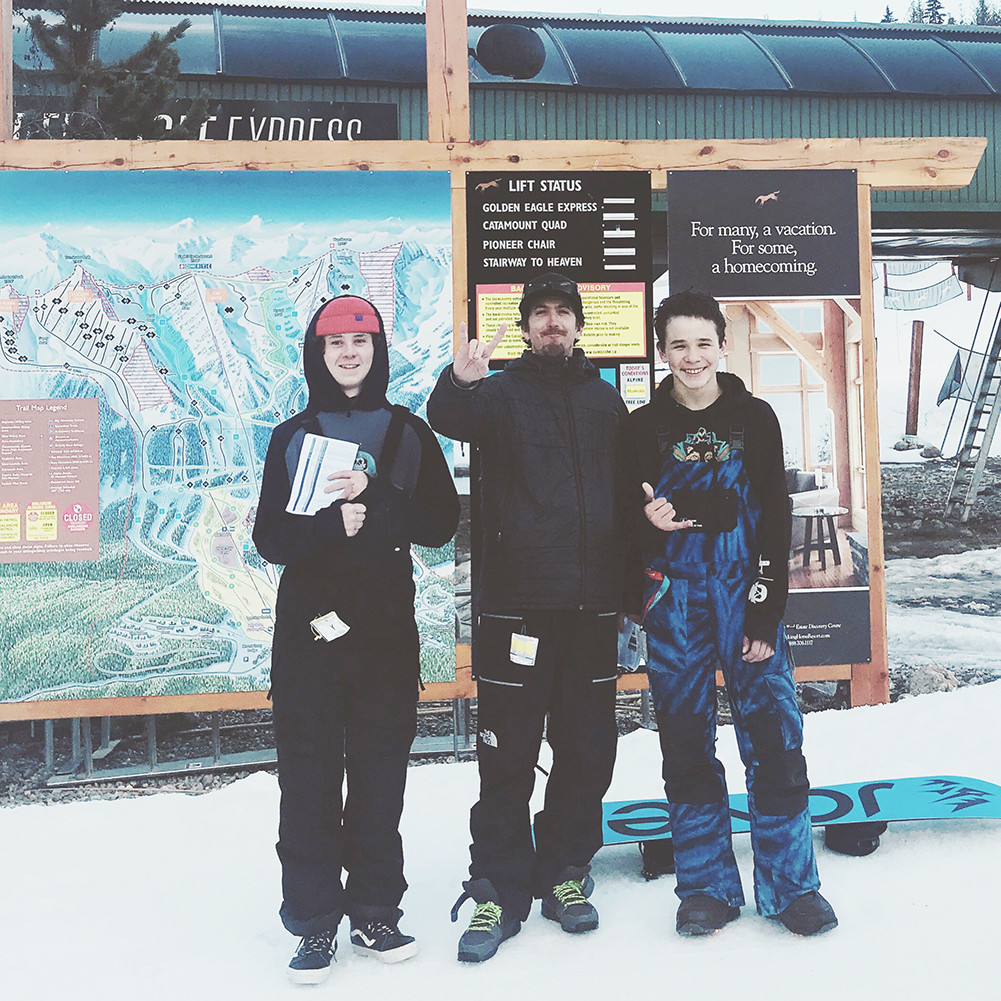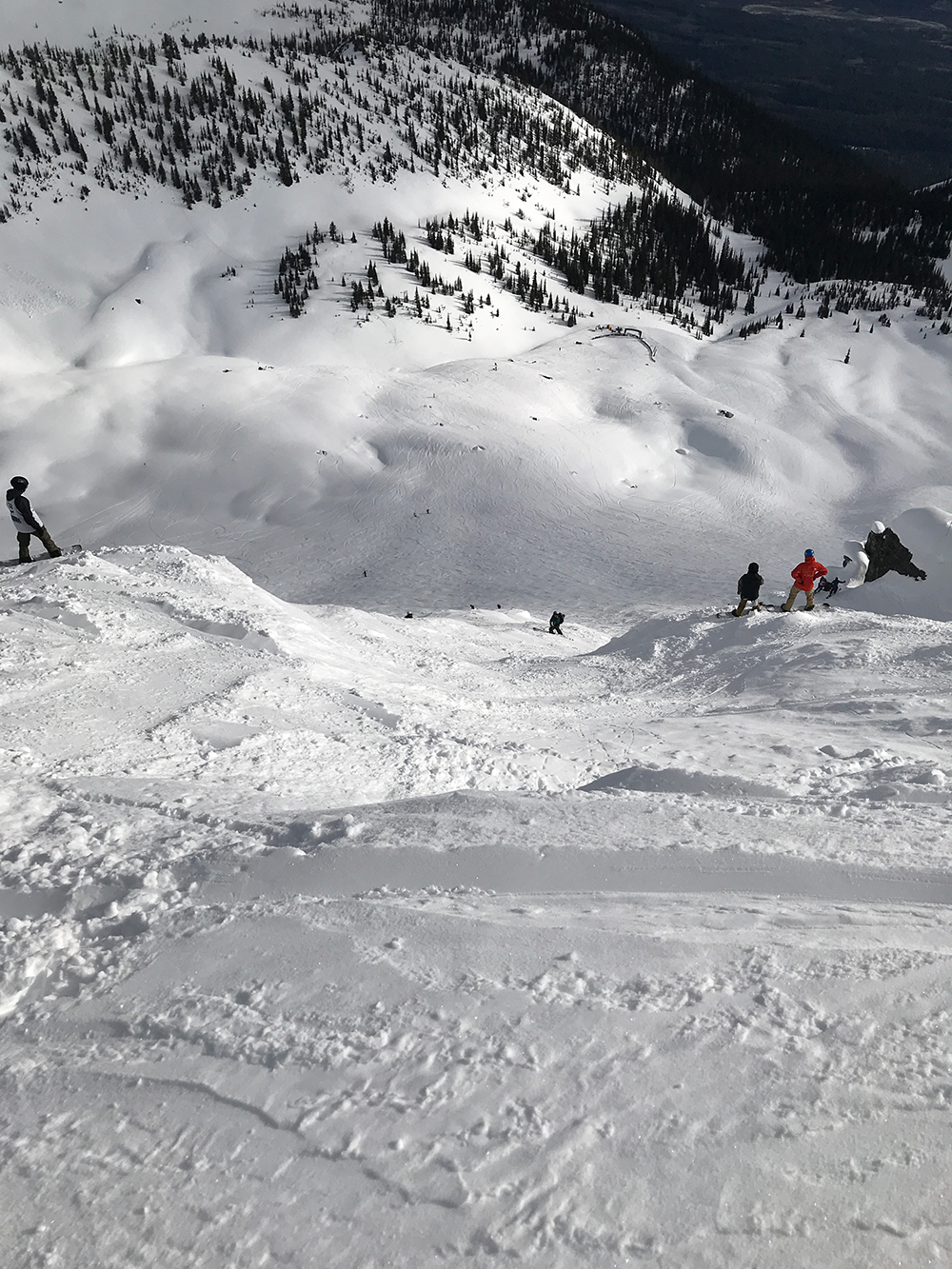 The view from the finals drop in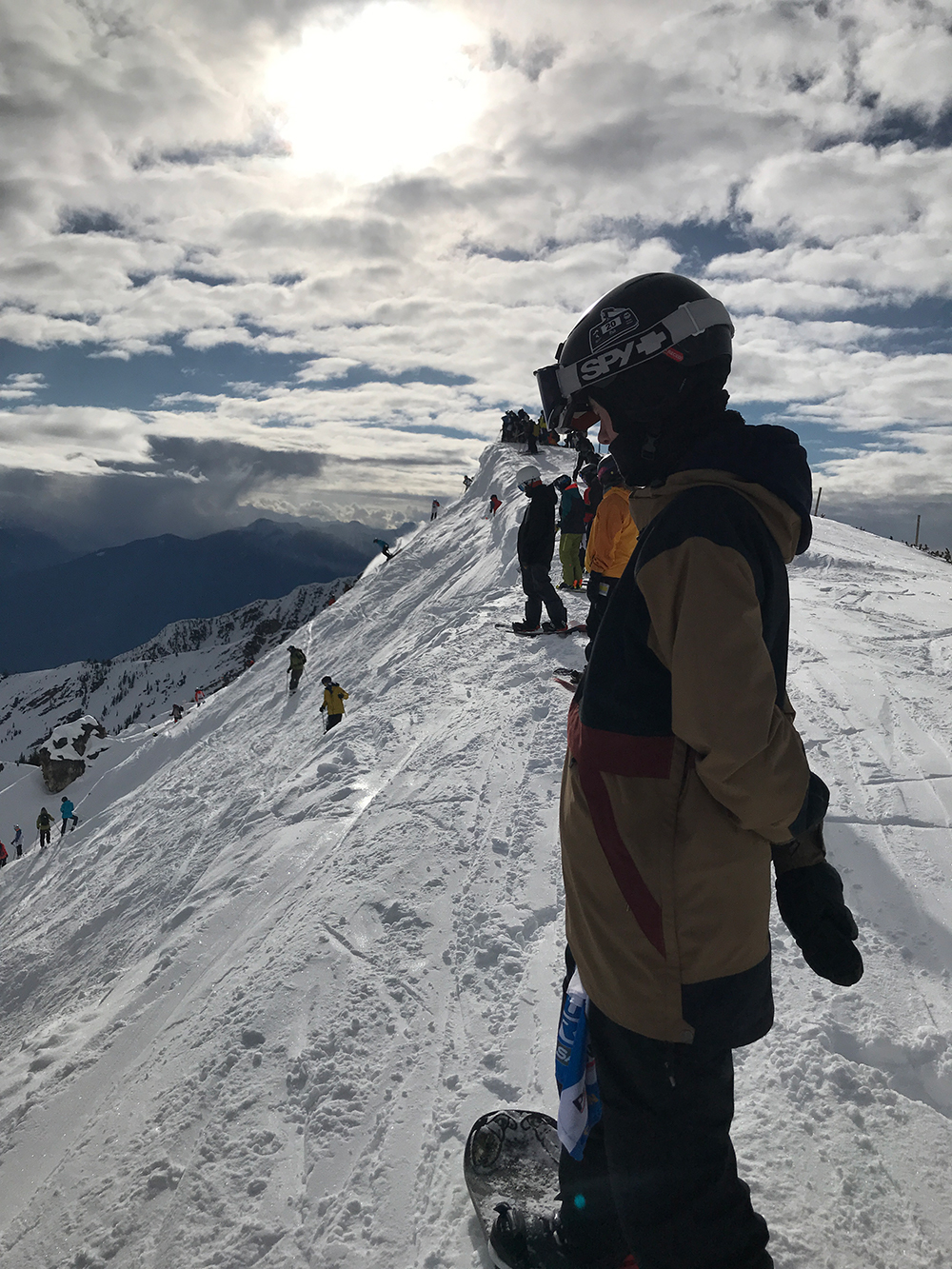 Neo gets ready to drop into finals.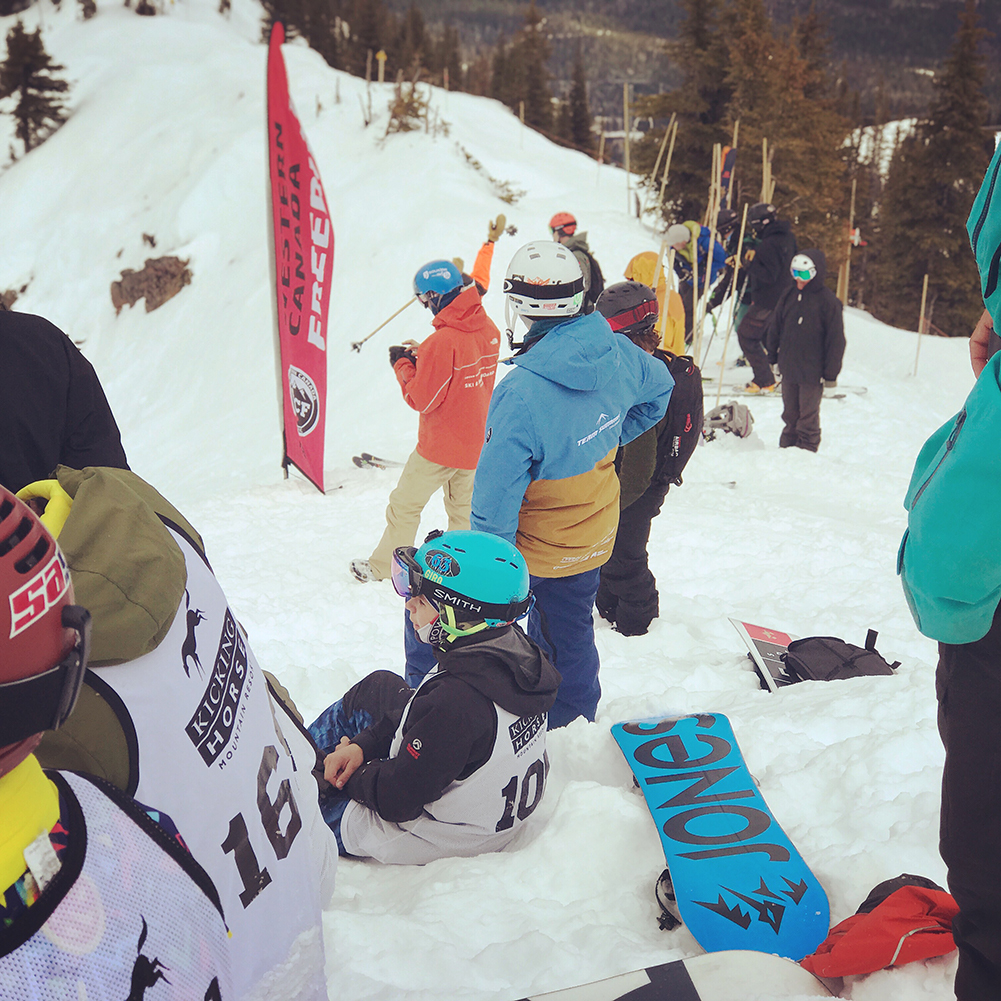 Ronin watches fellow competitors from the top on qualifying day.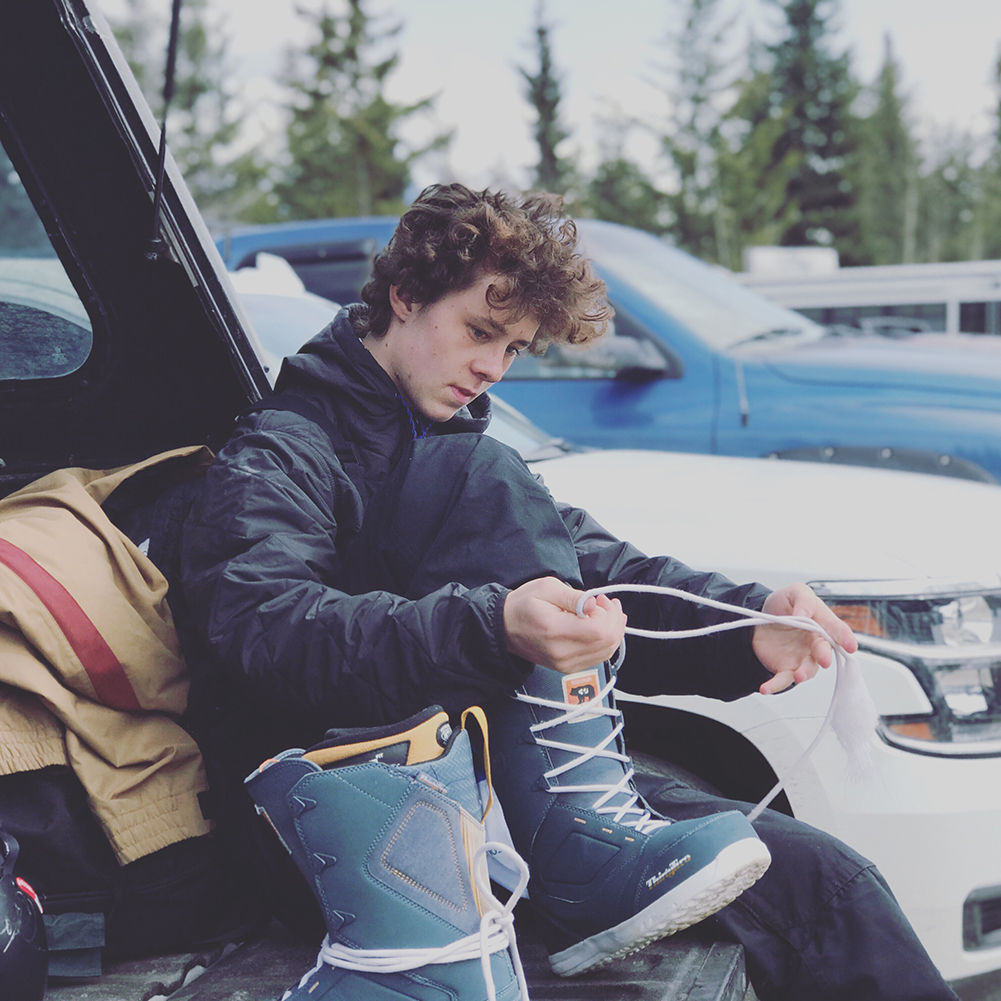 Neo booting up the morning of qualifying.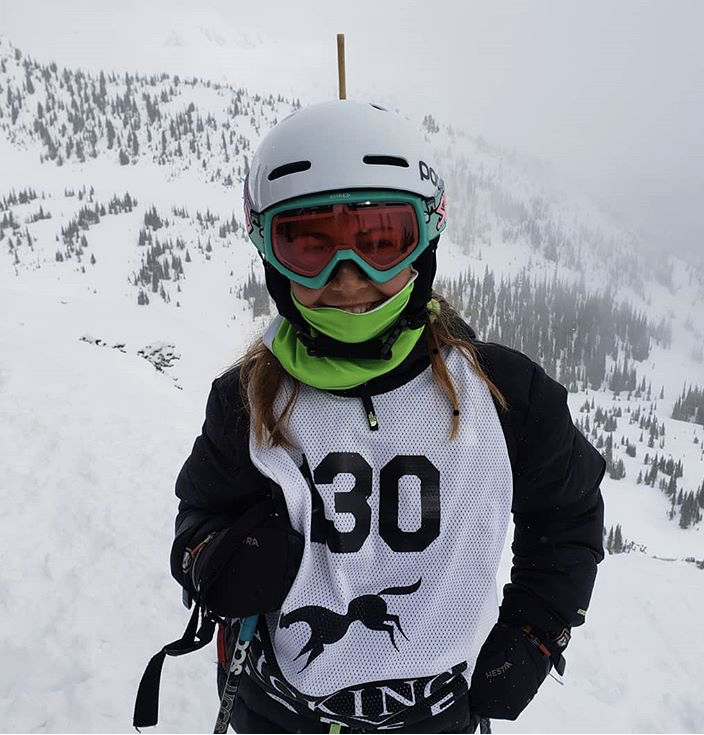 Ryan Glick looking happy to be skiing at Kicking Horse!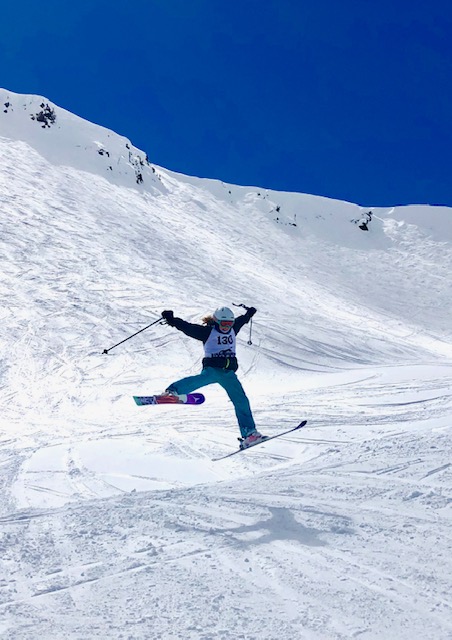 Ryan showing some style at the NorAms finish line.
2- USASA Nationals
Freeski
Freeskier Bennett Balogh worked hard in his competitive season this year, culminating it with an invite to the USASA National Championship in Copper Mountain, CO. He competed against the best in the country while he was there and represented the Jackson Hole Ski & Snowboard Club as the only competitor there all week hailing from the state of Wyoming.
Bennett was invited to compete in all 4 events at Nationals: Skiercross, Slopestyle, Halfpipe and Rail Jam. The competitions were held on successive days from April 5th to April 10th and were attended by over 200 athletes.
Our first day in Colorado was slated as a practice day, and dawned sunny and warm, setting the tone for a week of perfect spring weather. As Bennett sampled the courses built by the crew at Copper Mountain, he formulated a strategy that would bring him some really solid results over the week.
His first competition was Rail Jam, one of his stronger suits for sure. The competitors all came out firing, putting down as many tricks as possible on an elaborate setup over the course of 25 minutes. Bennett gave a strong effort, working on each feature meticulously and managing to slide one rail that was around 50 feet long, the only competitor in his group who was able to do so. He just missed making finals but was awarded 17th place for his efforts.
The following day was our halfpipe competition, something Bennett isn't as accustomed to but an event that he certainly performed well in. In halfpipe, athletes take two runs in the world-class ditch carved out at 22 feet deep, using their best score out of the two to decide the winners. Bennett was able to put down his best pipe run of the season on run 1, good enough for a 13th place in the Nation.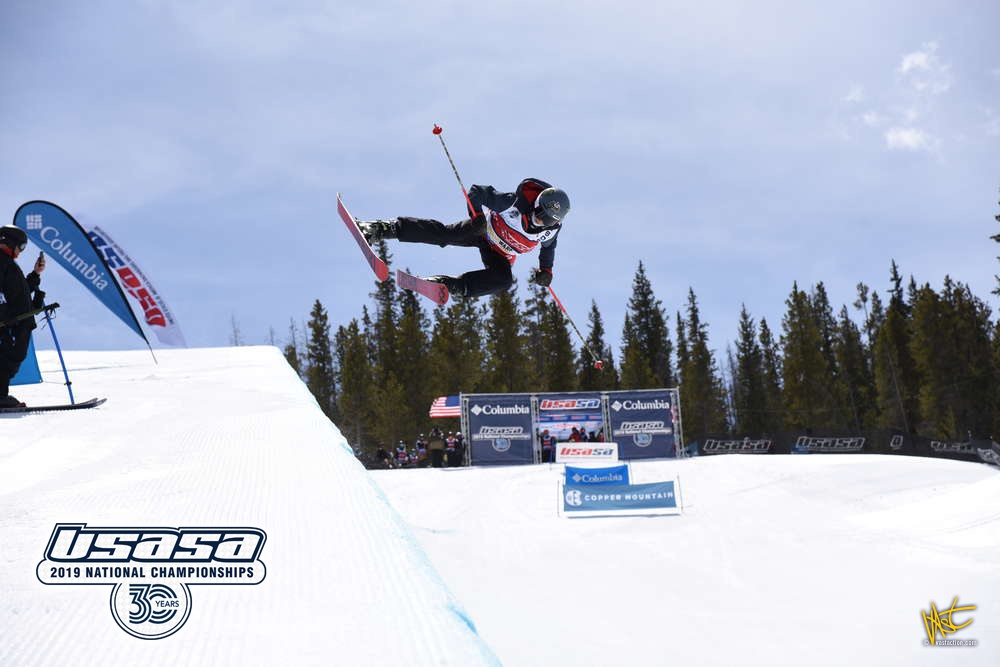 Day 3 was Bennett's strongest event and the one we had trained for all season long, Slopestyle. This also happens to be the most popular discipline of the week, with over 80 athletes from his age group competing. Similarly to Halfpipe, its a best of 2 runs scenario, with just 10 athletes selected from there to move onto finals. After a slight bobble at the end of run 1, Bennett had the pressure of needing to nail run 2 in order to execute what we had practiced for since November. Cool as a cucumber, Bennett crushed his 2nd run in perfect form, putting down a series of tricks including a stylish 360, an inverted trick called a flatspin and a big 720 on jump 3. In a stacked field of young men, Bennett was given 19th place for his efforts.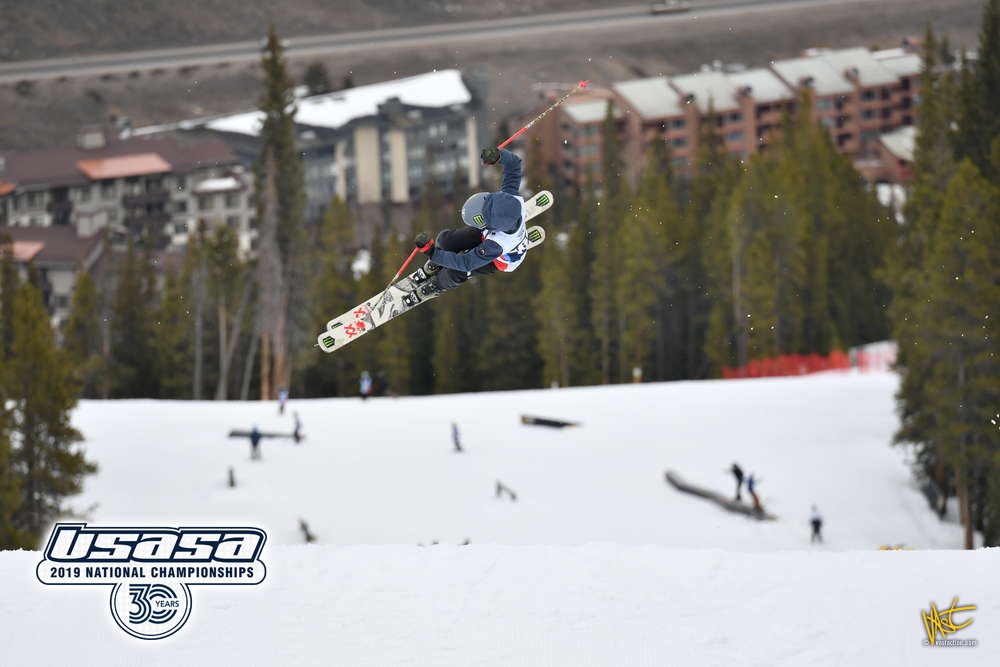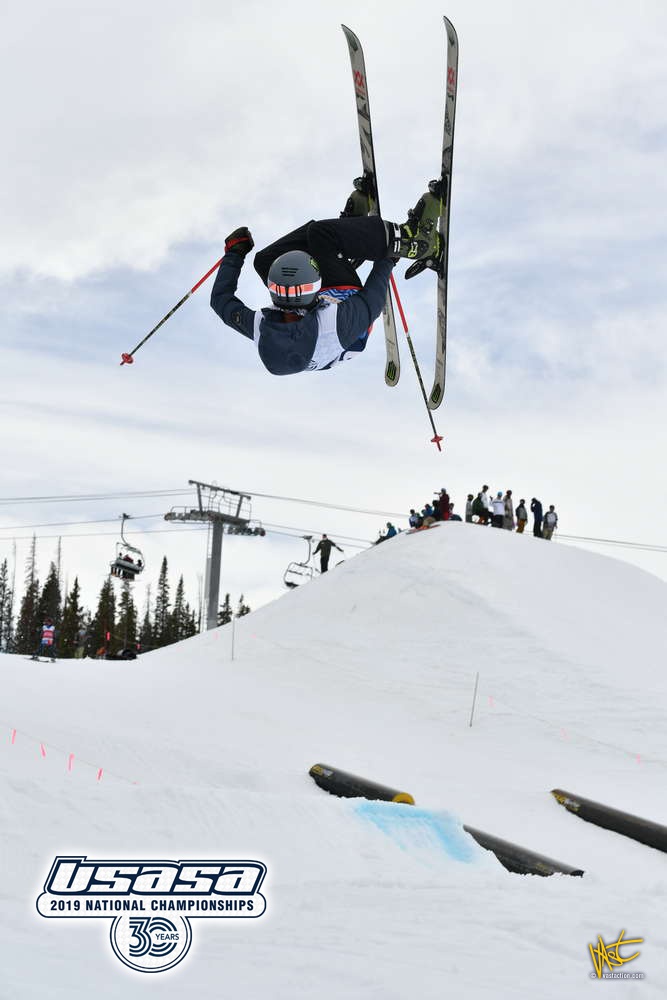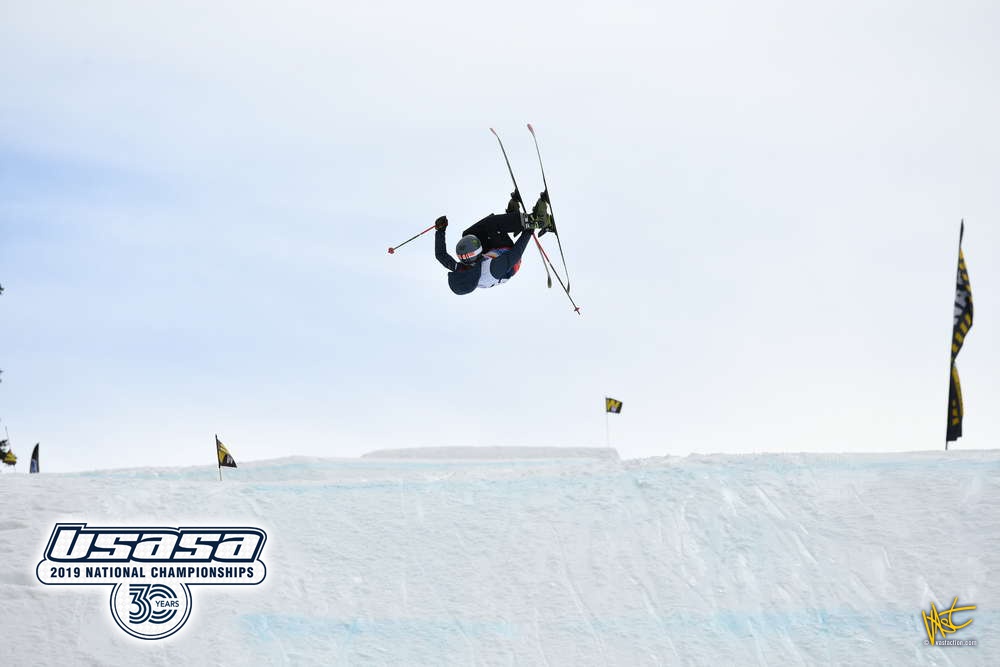 Bennet corks one out in the Slopestyle event. 
Day 4 in Copper was the exciting and fun Skiercross event. Even though the weather had moved in the night before the course crew was hard at work keeping the rollers and berms free of fresh snow and painted with neon blue to help with the visibility. The format for Skiercross is head to head racing in groups of 4 athletes, with the top 2 from each race moving on to the next in a March Madness style bracket. Bennett won his first heat handily, moving on to round 2. He faced some competition there, just managing to get 2nd in that heat . In heat 3, the semifinal race, he faced 3 athletes who were all very fast. He needed a really good start to give him a chance at finishing in the top 2. He rocketed out of the gate, making it to turn number 1 at the head of the pack. After getting passed by one of his competitors, he bobbled a bit in turn 3 and lost a ski. It was heartbreaking for him to fall behind here, when he had a chance to make it to the finals and a guaranteed top 10. Regardless of his misfortunes in the semi's, his performance on the final day was outstanding and he got 13th place for his efforts. 
Bennett and his coaches worked hard all season to make it to Nationals, and in his first year competing as a USASA athlete his efforts certainly paid off. In finishing top 20 in all 4 events at the Championship, he finished 3rd in the overall standings for his age group! We are very proud of Bennett not only for the scores he put up over the course of the week but for his sportsmanship, his attitude and his determination to perform at his very best, regardless of the outcome. He represented Jackson Hole Ski & Snowboard Club very well and should be proud of himself. We are certainly proud of him and can't wait to see what comes from Bennett in the future.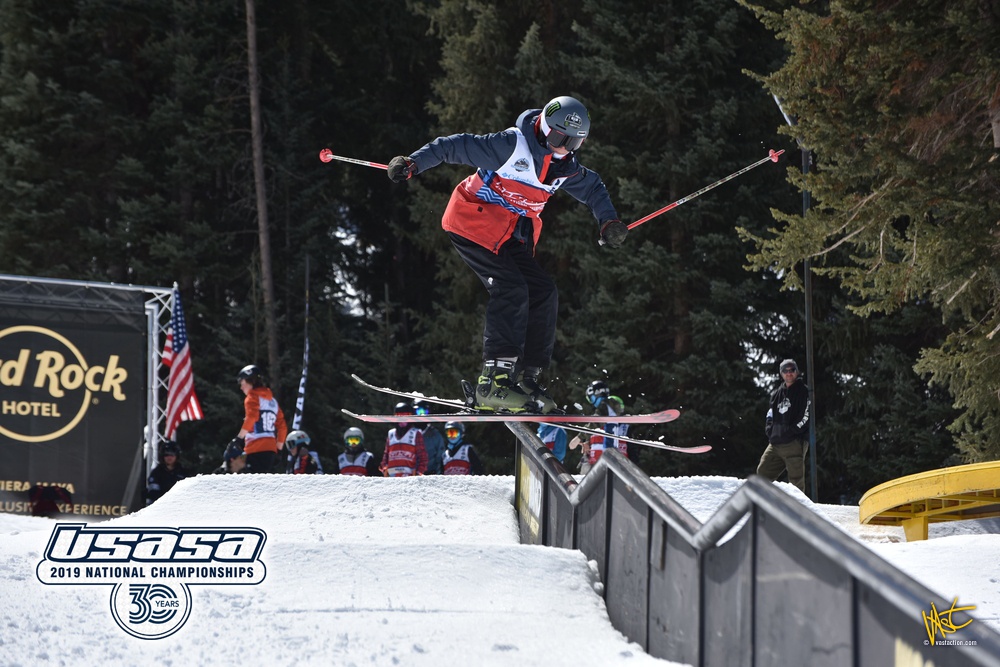 Bennett Balogh rips up a rail on the nationals rail jam course
Snowboard 
Freeride Program athletes Tiernan Schuldt, Ronin Suclla-Zell and Collin Schubert traveled independently to Copper Mountain to compete at Snowboard Nationals. Ronin competed in Boardercross and Tiernan competed in Slopestyle, Boardercross and Rail Jam while Collin competed in Rail Jam.
Ronin Suclla-Zell- 53rd in Boardercross (Ranked 94th Nationally)
Tiernan Schuldt- 75th in Boardercross, tied for 17th in Rail Jam (Ranked 26th Nationally), 88th in Slopestyle (Ranked 61st Nationally)
Colin Schubert -  tied for 17th,   Ranked 39th Nationally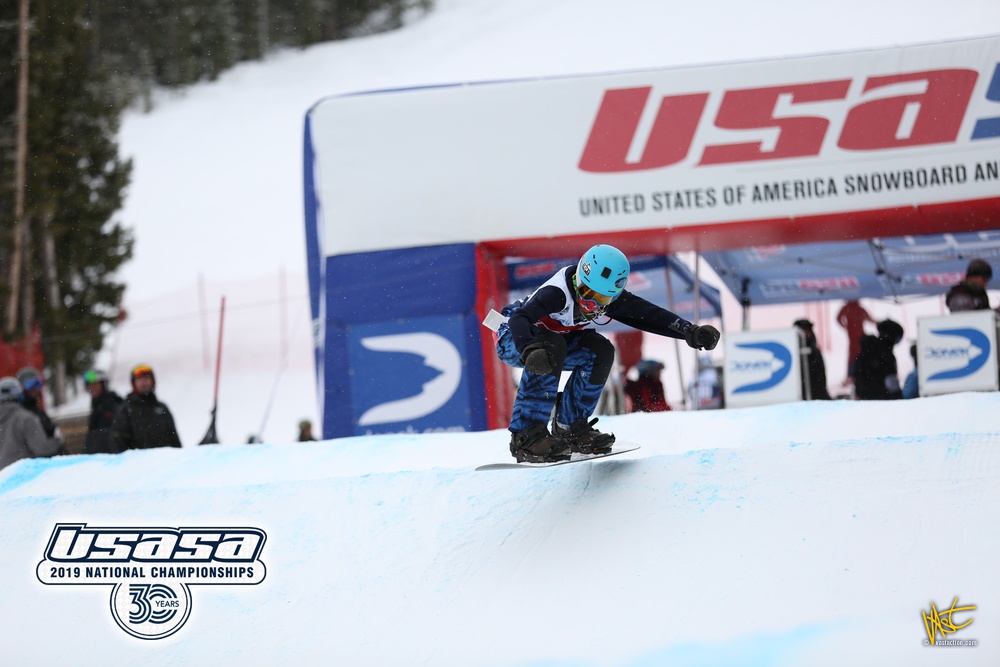 Ronin attacking the boardercross.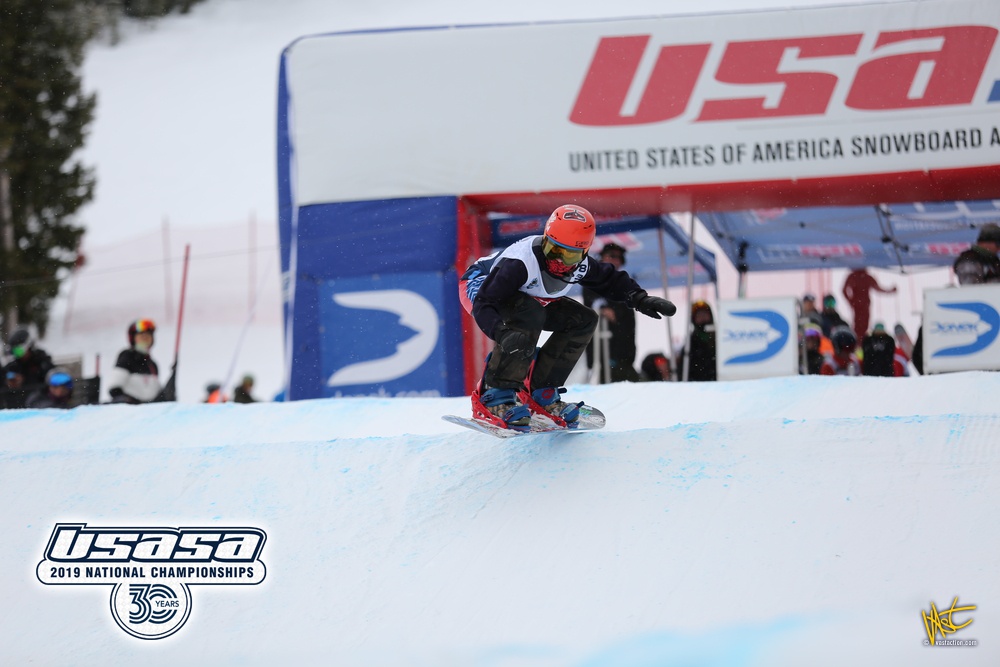 Tiernan gets into the boardercross for his time trial.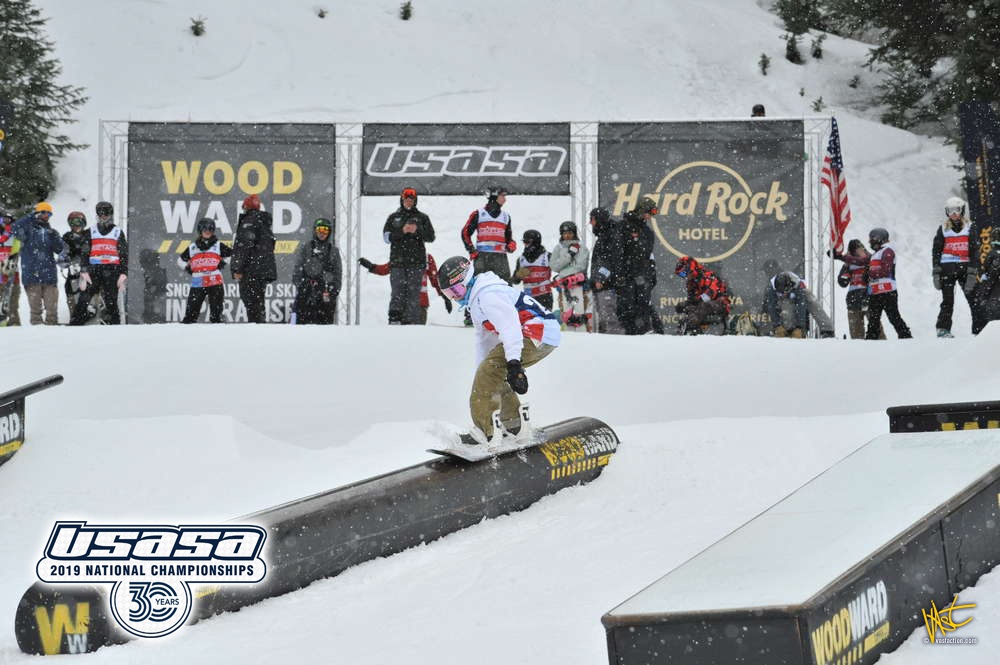 Collin slides a rail in the 14+ age division.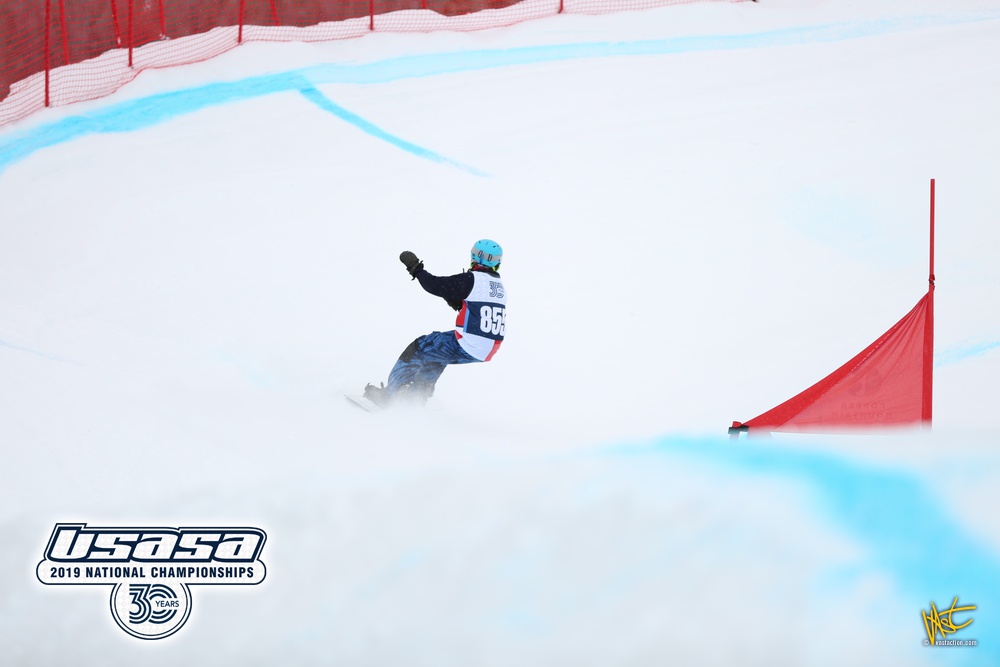 Ronin rounding a burm.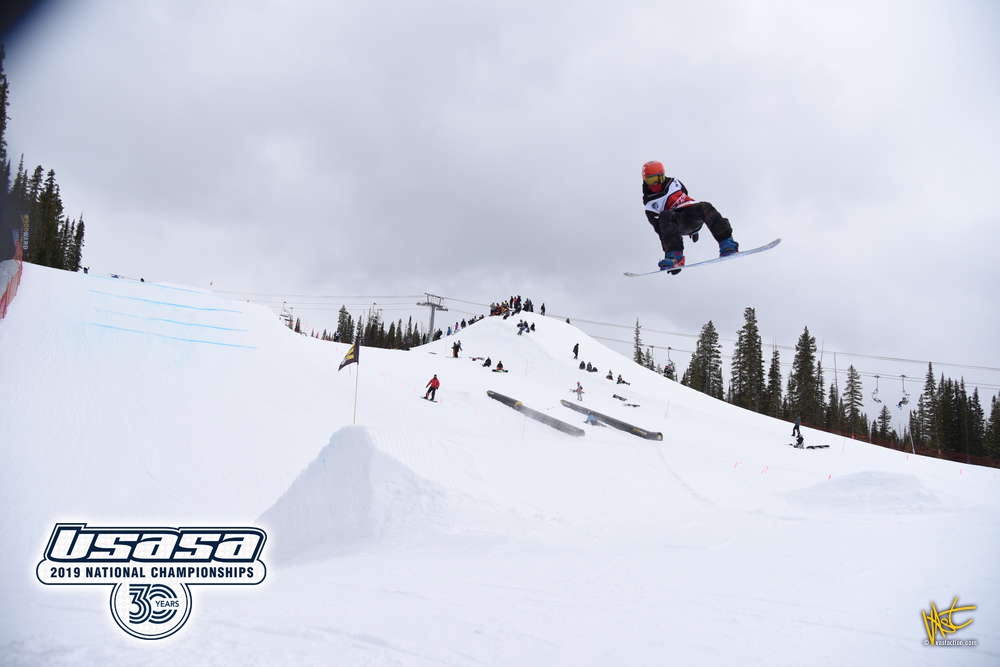 Tiernan gets the grab in his slopestyle run.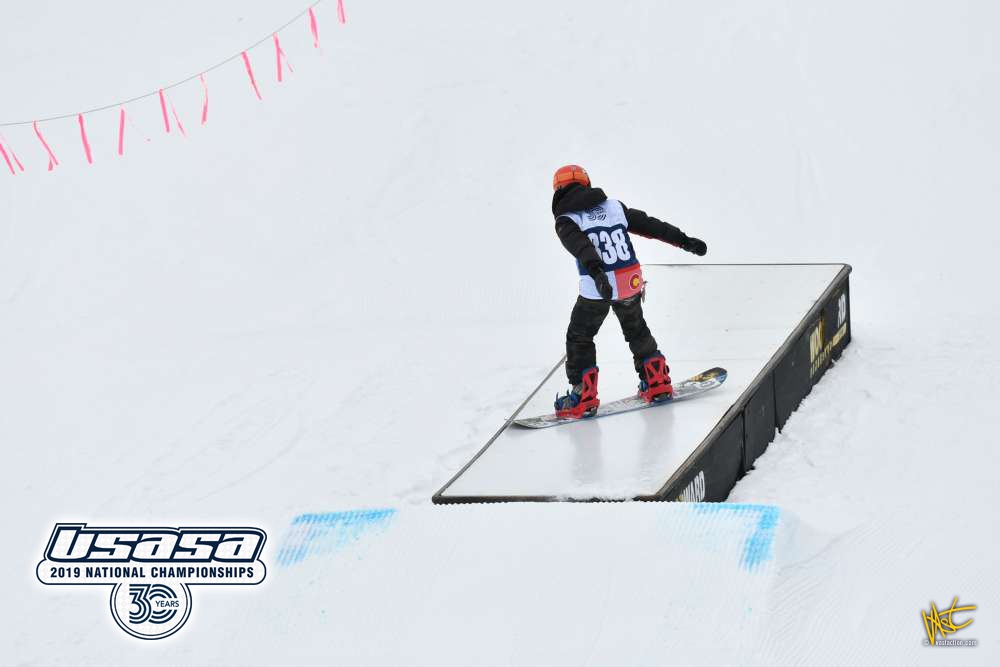 Tiernan sliding a box in the slopestyle course. 
JH News & Guide Article
The local news paper wrote about the Jackson Hole Ski & Snowboard Club as well as the Freeride Program in a recent article. Click below to read.
https://www.jhnewsandguide.com/sports/features/article_9f0c6e1a-f088-5a8b-9e7b-e1fcd531e489.html
Head snowboard coach Lance Pitman takes a back seat
After three years on the job as head snowboard coach, Lance is moving on. When asked what prompted the decision, Lance said " it was the plan all along, the club and I agreed to a three year commitment when I took the job, so I'm just sticking to the game plan. I'll miss it for sure."
When pressured for more information, Lance said "Well I may have permanently lost my switch back five lens this season, and now I have something in my eye, plus I'm getting a bit old and cranky to be hanging around all these youngin's." He was clearly referring to the other snowboard coaches who are barely out of diapers. Old Man Pitman who was seen sliding sideways through the Tetons as early as 1917 according to legend, plans to focus on healing arts and Yoga as a way to keep riding well into the 22nd century. 
Thanks for all of your incredible dedication and tireless effort to the Freeride program.  We hope that you will continue to be involved.