Congratulations to all of the Freeride Program Athletes who qualified for the 2019 Championship events!!
USASA Nationals Copper, CO 
Bennett Balogh: Slopestyle, Halfpipe, Rail Jam & Skiercross
Tiernan Schuldt: Slopestyle, Rail Jam & Boardercross
Collin Schubert: Rail Jam 
Ronin Suclla Zell: Boardercross
Neo Emery: Boardercross
IFSA North American Championships, Kicking Horse, BC
Ryan Glick  - Under 12 Ski
Rye Web - 12-14 Snowboard
Ronin Zell- 12-14 Snowboard
Neo Emery - 15-18 Snowboard
Park City USASA
The last regular season USASA event owas held at Park City.  Bennett Balogh was the only athlete from the Freeride Program to attend and made the most of his time there.  He claimed 5th & 14th place Slopestyle finishes an extremely competitive field.  Although it was his first time in the halfpipe, he still mananged to put down a handful of smooth runs and finished 7th in two separate competitions.  
Big Sky Regional 
From March 8-10 the FRP competed in an IFSA Junior Big Mountain Event at Big Sky Resort in MT. JHSC Snowboarders Finn Varga, Will Mercer, Neo Emery and Ronin Suclla-Zell were joined by Freeskiers Ryan Glick and Miles Huseby for a couple frigid days competing against their peers from Utah, Montana, Idaho and Wyoming.
Day 1 found us competing on the Moonlight Basin side of the resort on a craggy run called Obsidian. Neo and Will both put down solid runs that had them qualified in 1st and 2nd place, respectively. Ronin also laid down a smooth, consistent run good enough to qualify for finals. Miles had a stroke of bad luck at the end of an otherwise stellar run, with a slight bobble that left him just out of the qualifying group for the day 2 finals. Finn and Ryan put down nice fall line runs that gave them each a spot for U12 finals held on that same day. The judges were equally impressed with their finals runs, with Finn getting a 2nd place for his efforts and Ryan scoring a 3rd.
Day 2 brought us to the intimidating Headwaters venue for finals in the older groups. The hike out to the venue is an exposed knife edge ridgeline with fixed ropes for safety. After inspecting the rocky, steep venue, we all had to hustle back up for another 40 min hike back to the top of the course. Finals runs were laid down with smooth style by all 3 Snowboard athletes, with each one showing the judges the skills they've honed on the steeps of JHMR all season long. Ronin got 2nd place, capping off a great season of competing on the IFSA circuit. Neo also had a solid 2nd place finish in his first year competing full-time as an IFSA athlete. Will Mercer stepped up his game a bit from day 1 and the judges awarded him with 1st place for the event!
Avalanche Level 100
Over the weekend of March 15th to March 18th four of the JHSC athletes attended the inaugural Jackson Hole Ski & Snowboard Club Avalanche 1 Course conducted by the American Avalanche Institute (AAI) and accompanied by Snowboard Coach Kevin Dehm. Our guide Scott Palmer accompanied by Brian Burger were amazingly knowledgeable and did a great job bringing a huge amount of information to our athletes in an understandable format. Attending athletes were skiers Erica, Miles, River, and Miles.
Day 1 started with 4 hours of classroom time at Snow King. We began by going over a few scenarios that had tragic endings to set the tone for a weekend of learning and humility. After analyzing the decision making processes involved in skiing the backcountry, we took the afternoon to practice beacon searches, probing and strategic shoveling in the side-country off the summit of Snow King. Everyone showed a great foundation for these skills and we ended the day eager to learn more.
Day 2 was the much anticipated ski touring day on Teton Pass. We awoke to warm weather and sunny skies! After going over our plan for the day and checking the functionality of our beacons, we set off in from the top parking lot at Teton Pass and toured south along Pass Ridge towards Olympic Bowl. After a brief discussion, we made some fresh turns through the trees and found a nice spot to dig a snow pit from which we could do stability tests. We learned three basic stability tests, the shear test (ST), the compression test (CT) and the extended column test (ECT). Combining this with a hand hardness test allowed us to get a comprehensive look at the snow-pack and apply a scientific method to assessing its stability. After our stability tests we all skied down through north woods in the process we assessed our position in the backcountry and how to form a safe plan of where to and where not to go. Once we made it down to the bottom of the canyon we broke trail and made our way back up to the parking lot.
Day 3 was about bringing it all together and applying it to our decision making. We began with shuttling our car to the top of Teton pass. Next we started off the day with a tour out to playboy shoots, a North facing area with 40+ degree slopes we determined to be safe with the snow-pack we discovered. On our way out we stopped numerous times to dig hand pits and at the top of our tour we dug one large pit as a team to assess the snow-pack again via all the tests we learned.  Everyone involved showed that they had learned the skills needed and afterwards, we dropped in for an exciting line and everyone had a blast. The snow was great and the vibes were even better. Since we had a vehicle parked at the bottom we didn't have to tour back out and the athletes where happy.  
The 2nd half of the day took place in the lodge of Snow King. For the final hours of our class Scott presented us with five different ski touring plans that included such factors as partners, objectives, weather and snow stability. The athletes were then asked to answer "GO" or "NO-GO" based on all this information. It was this exercise that really challenged everyone to use all the skills they had learned over the three-day course and apply it to serious decisions. Everyone showed an excellent understanding of the factors involved in these decisions and made informed arguments supporting their opinions.
A huge thanks goes out to JHSC backcountry coordinator Blake  and AAI teacher Scott Palmer for putting this course together. JHSC would also like to extend a thank you to our very knowledgeable and friendly guide Scott for presenting all this information in a way that was understandable and relatable to our athletes. Lastly, a big thanks goes out to Wilson Backcountry Sports and Teton Backcountry Rentals for giving our athletes discounts on ski touring and avalanche gear. We are all very excited to make this Avy 1 Course a yearly option for all JHSC Athletes at an affordable rate!
Freeride Junior World Championships: Kappl, Austria 
Freeride Program coach Lance Pitman and athlete Steven Bailey competed at the Junior World Championships in Kappl Austria in March, 2019.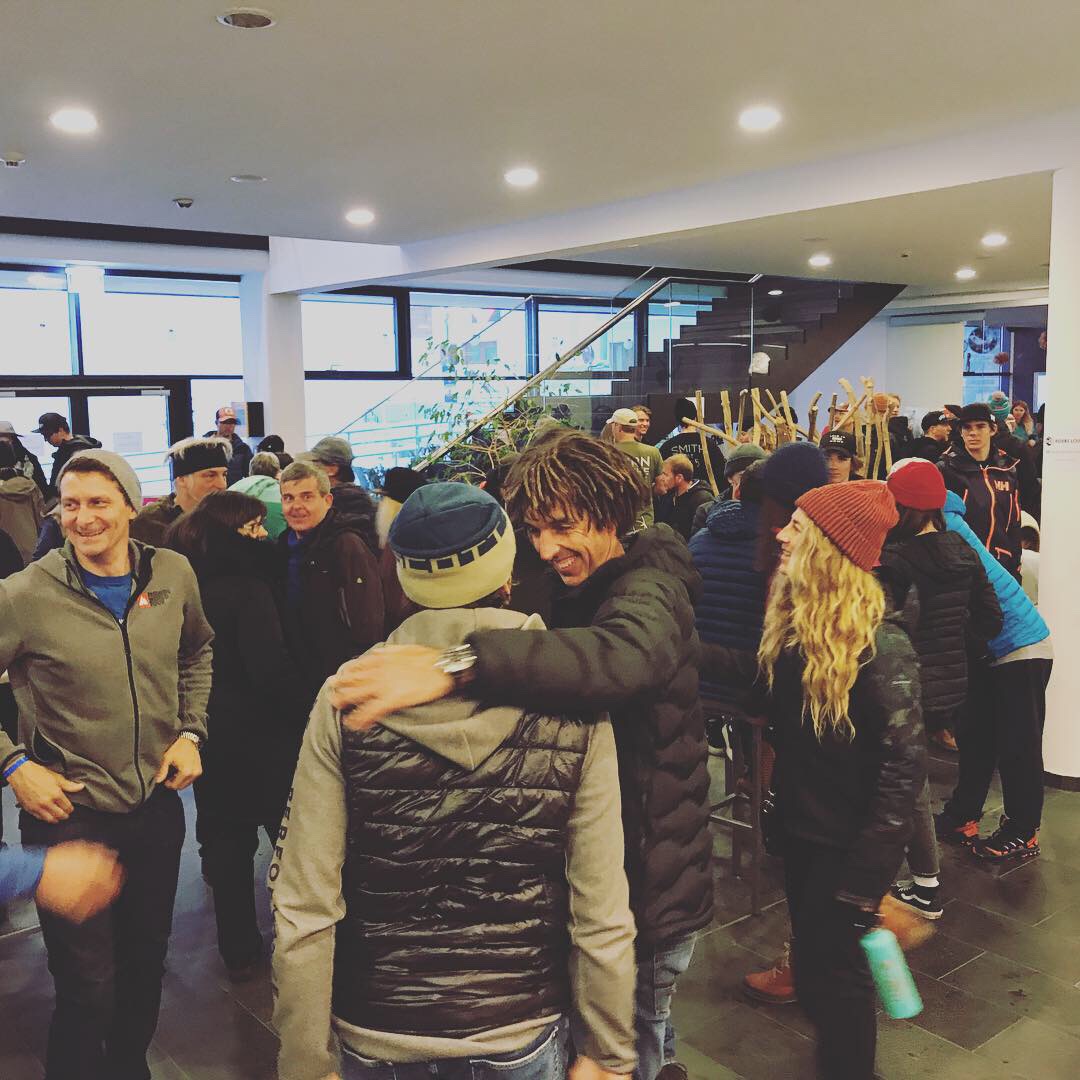 The trip begin in Jackson Hole, with the crew flying to Munich, Germany and then traveling to the Tyrol region in the Austrian Alps. Kappl is a smaller resort with only a few chair lifts, right next door to the giant Austrian resort of Ischgl. Ischgl by comparison has 45 operating lifts and 145 miles of groomed runs.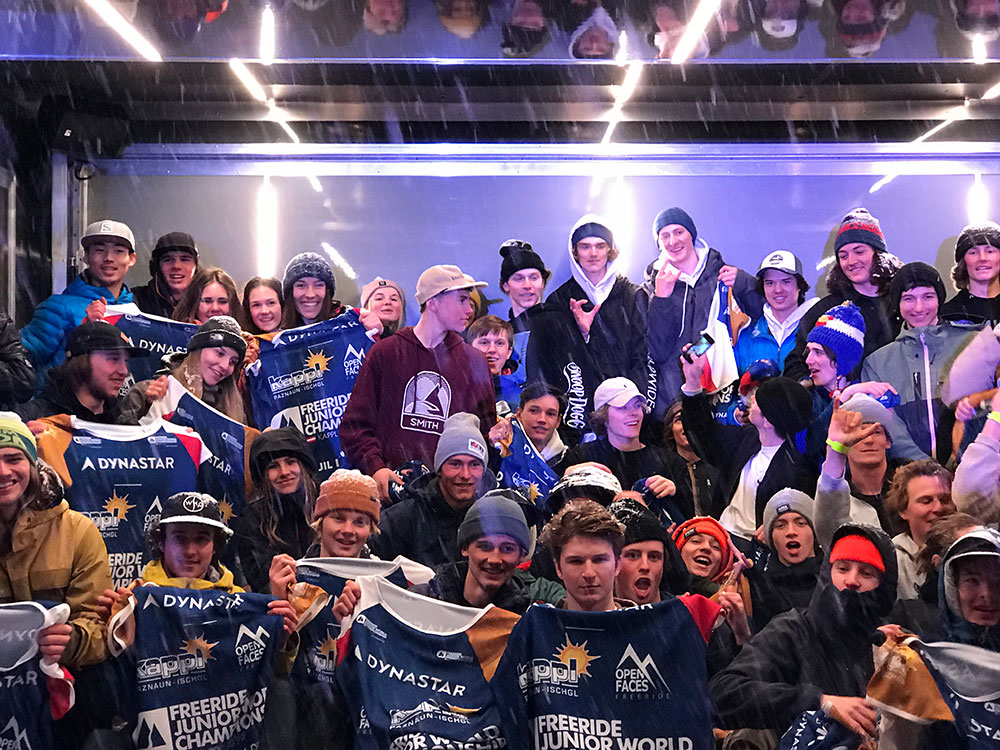 Upon arrival in Kappl riders and coaches meet in a centrally located building that serves as competition head quarters. A friendly meet and greet checkin process unfolds and the competition experience begins. First checkin, then moving into lodging, and then the riders meeting, followed by dinner.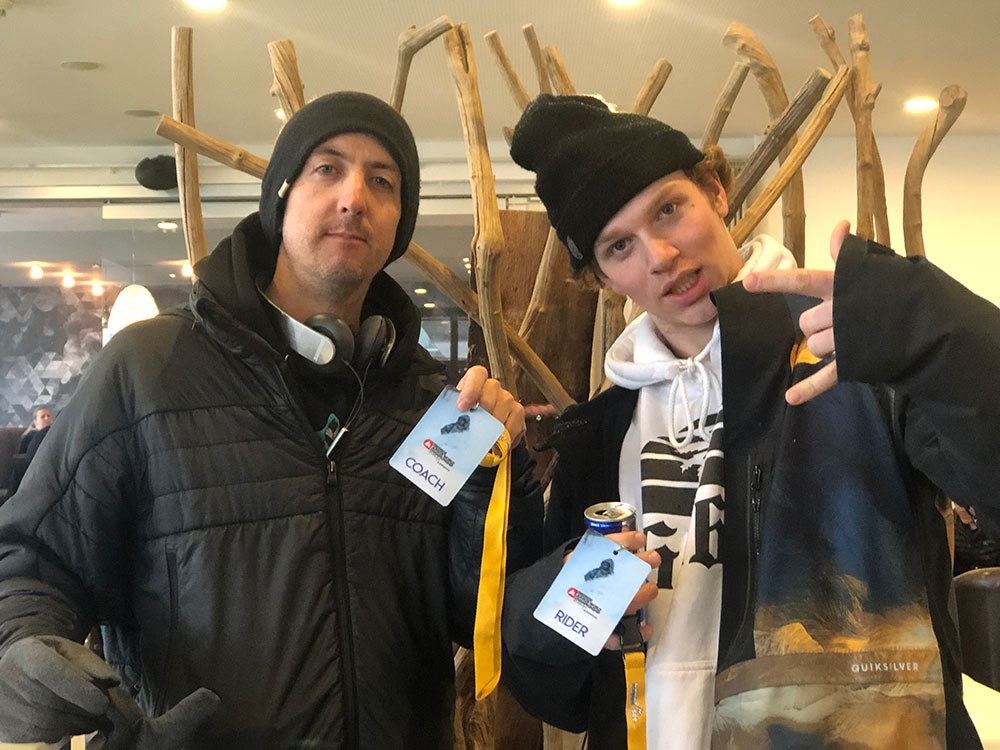 Since nobody knows what day the contest will go or which venue the comp will be held on, everyone is eagerly awaiting this information going into the rider meeting. 
At the rider meeting the competition organizers and judges let everyone know when the best looking day for weather might be, and which venue the comp should be held on. They also do a bib draw, which establishes the start order for the riders in each category. Some might think going early is better in a freeride comp where riders want the powder to be deep and untracked, some riders got stuck it was so deep!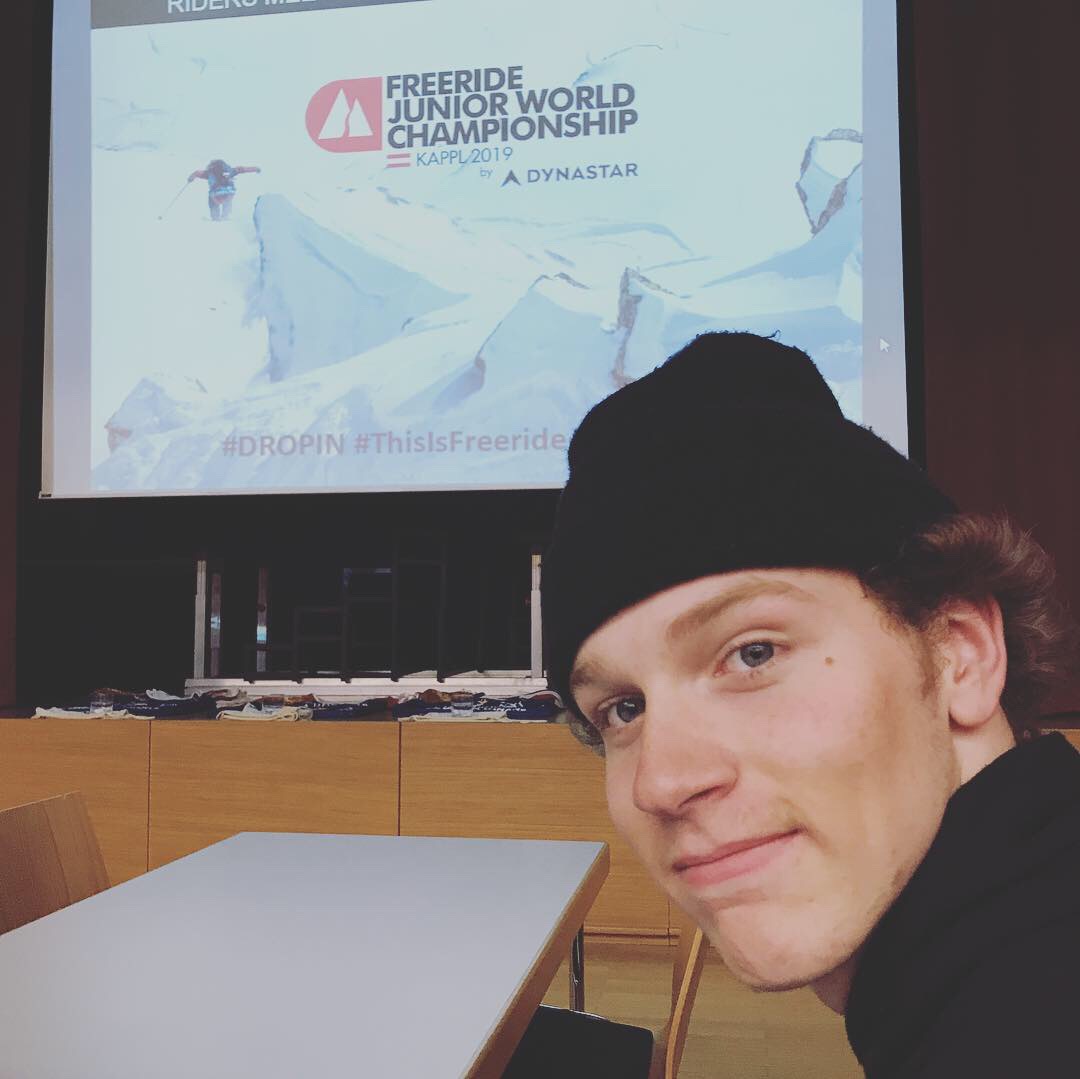 They let the riders know that the comp will go the following morning, that weather should be clear and that there should be 50 cm of new snow.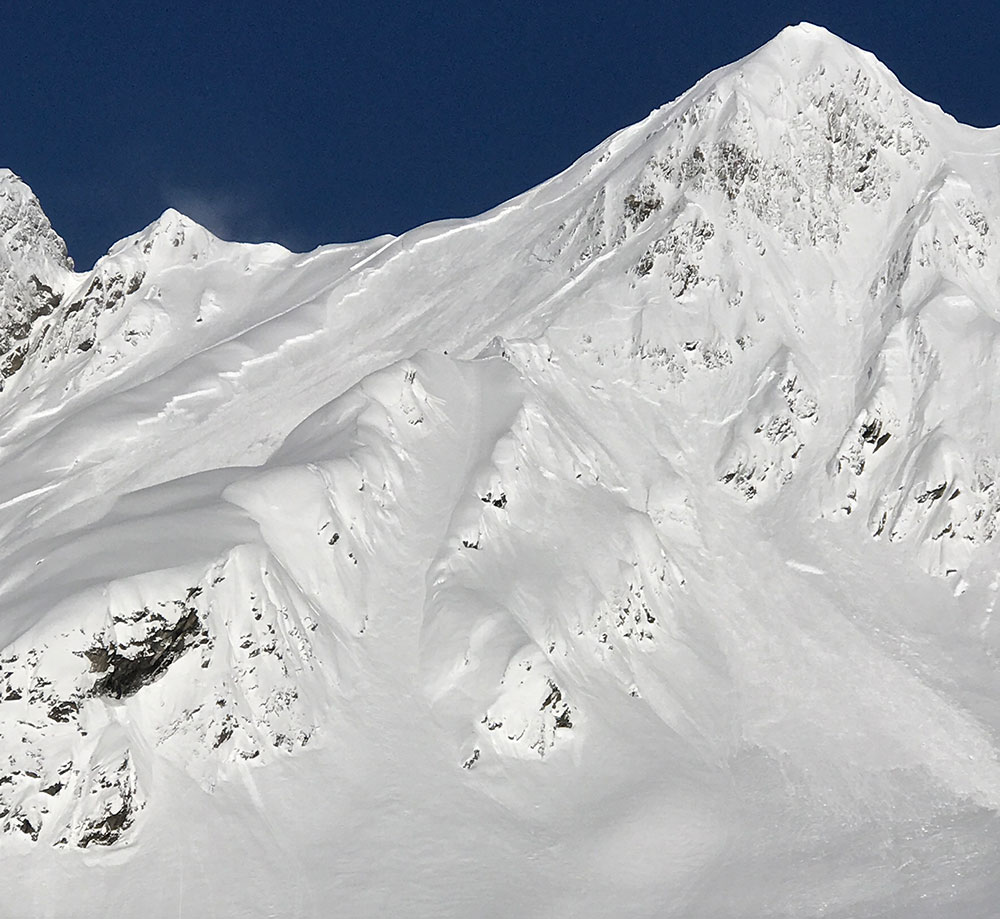 After dinner it's off to sleep for the 4:50 AM wake up call before breakfast at 5:30 and gondola load at 6:30 AM. All the riders are eagerly awaiting the next day, and the comp is going on Venue A. Venue A at Kappl is about as cool of a snowboard venue as one could imagine. 
Comp day comes and with all the promised snow. Clear skies too. And no wind. And free coffee. It's amazing. The competition organizers and ski patrol need to do snow control for an hour and a half or so, so they just let the riders and coaches shred. And I mean shred. For an hour and a half they run the chair, with two feet of perfect snow and sunny skies and ahhhh! it's just crazy. People are launching all over the place. A nice little warm up!
Now the rider and coaches are heading up the Alblittkopf Bahn (the upper chair) and gathering at the top of the lift to look at the venue. It's been ripped top to bottom by snow control, but the majority of the lines remain clean and untouched. Everyone is seething to get up there.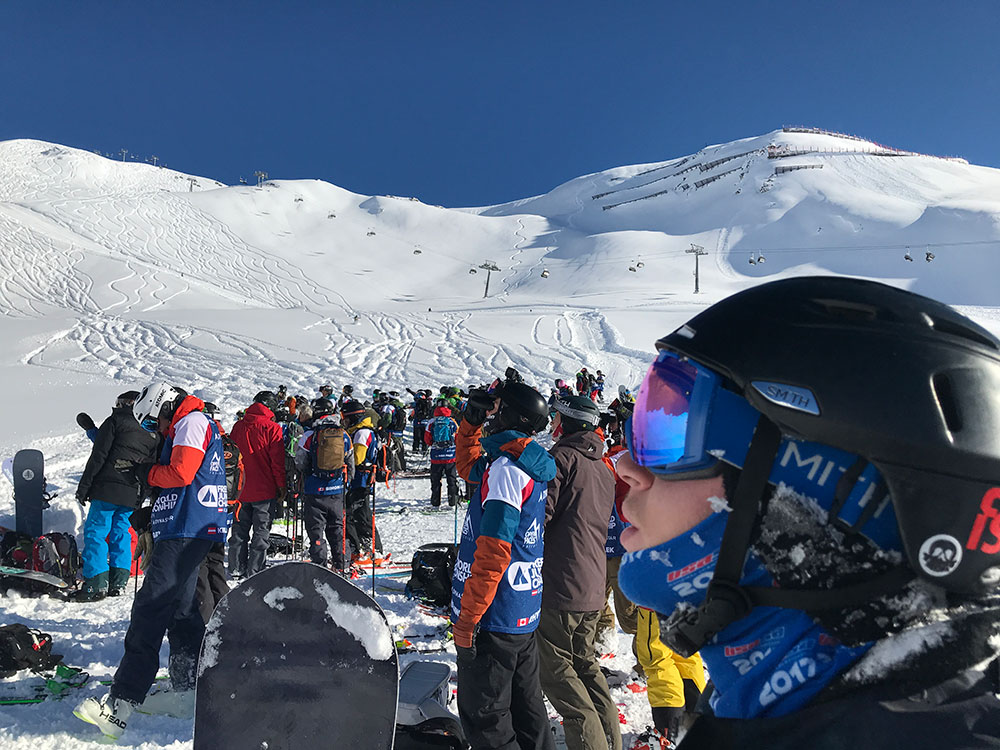 Oh darn, they aren't ready for the riders to head up yet, so everyone has to take another run, this time on the even better chair. The powder is so deep it's just a wiggle down the mountain because if you turn much, you'll get stuck. And that's what happened to more than one rider in the comp. Speed is your friend. Remember that.
After a couple passes with the helicopter, a few ski cuts and a fore-runner, they green light is on and everyone is heading up the hike to the top of the peak. To the drop in for the comp. 
The hike is a knife ridge, thank god the boot pack has been put in by people with ski boots, and they've set a rope in the steepest, most exposed sections of the hike. That makes it faster and easier and less scary to get to the drop. With helicopter buzzing and daylight burning the snowboarders are heading up first, for they get to go before the skiers. That's usually a good thing for the snowboarders, but when there is 50+ cm of snow and the venue has a couple flat spots, that's debatable.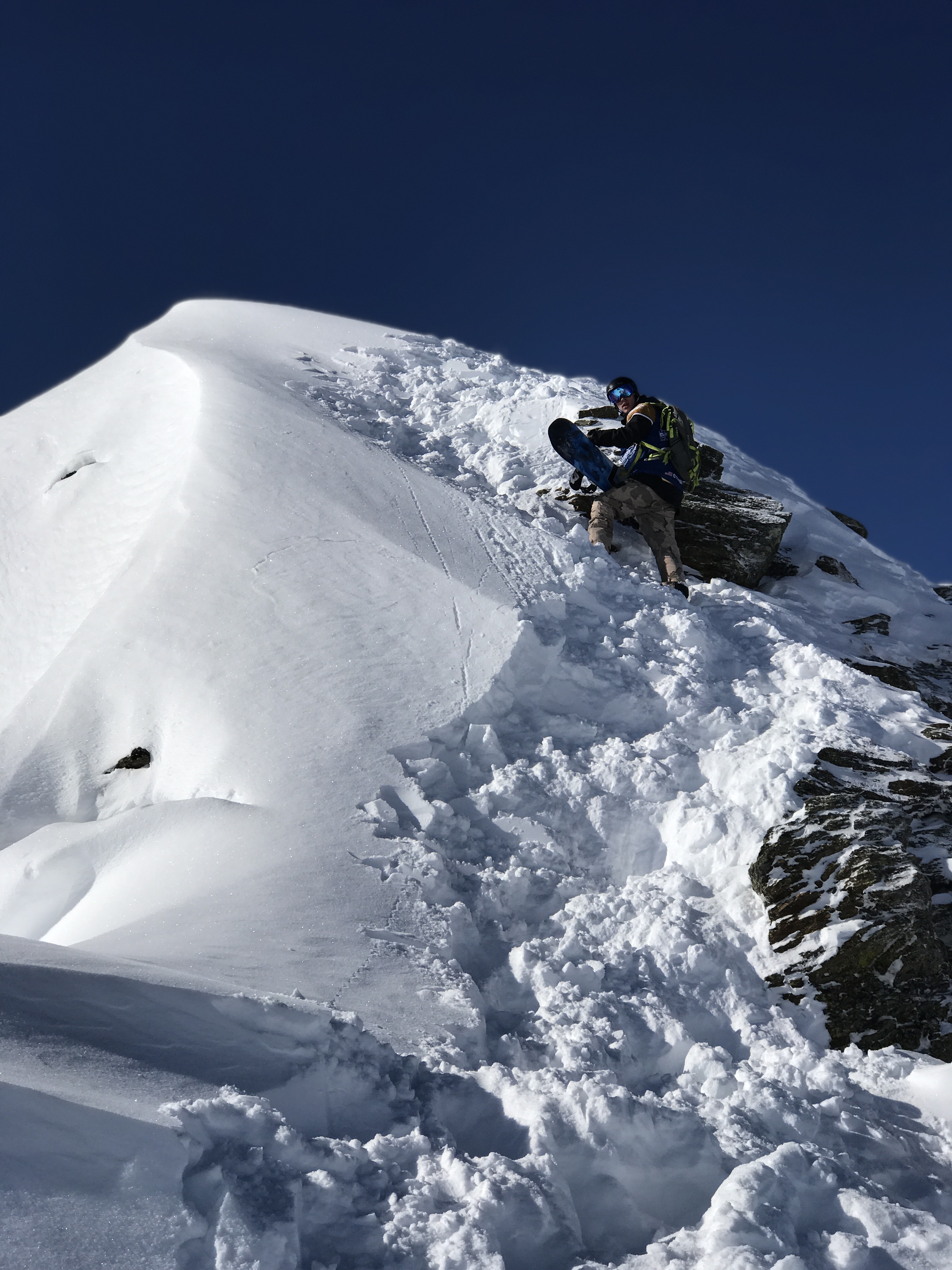 Once the riders are at the top they make fast work of getting everyone ready and getting the comp running. They need to run a hundred athletes and it's nearing 10:30 am. 
Steven runs 5th. Coach and rider talk it out, Steven chooses his line, and before you know it, he's dropping, and a year of work, hours upon hours and thousands of miles of traveling, hundreds of thousands of vertical feet of training have all come to this, and it's time to drop.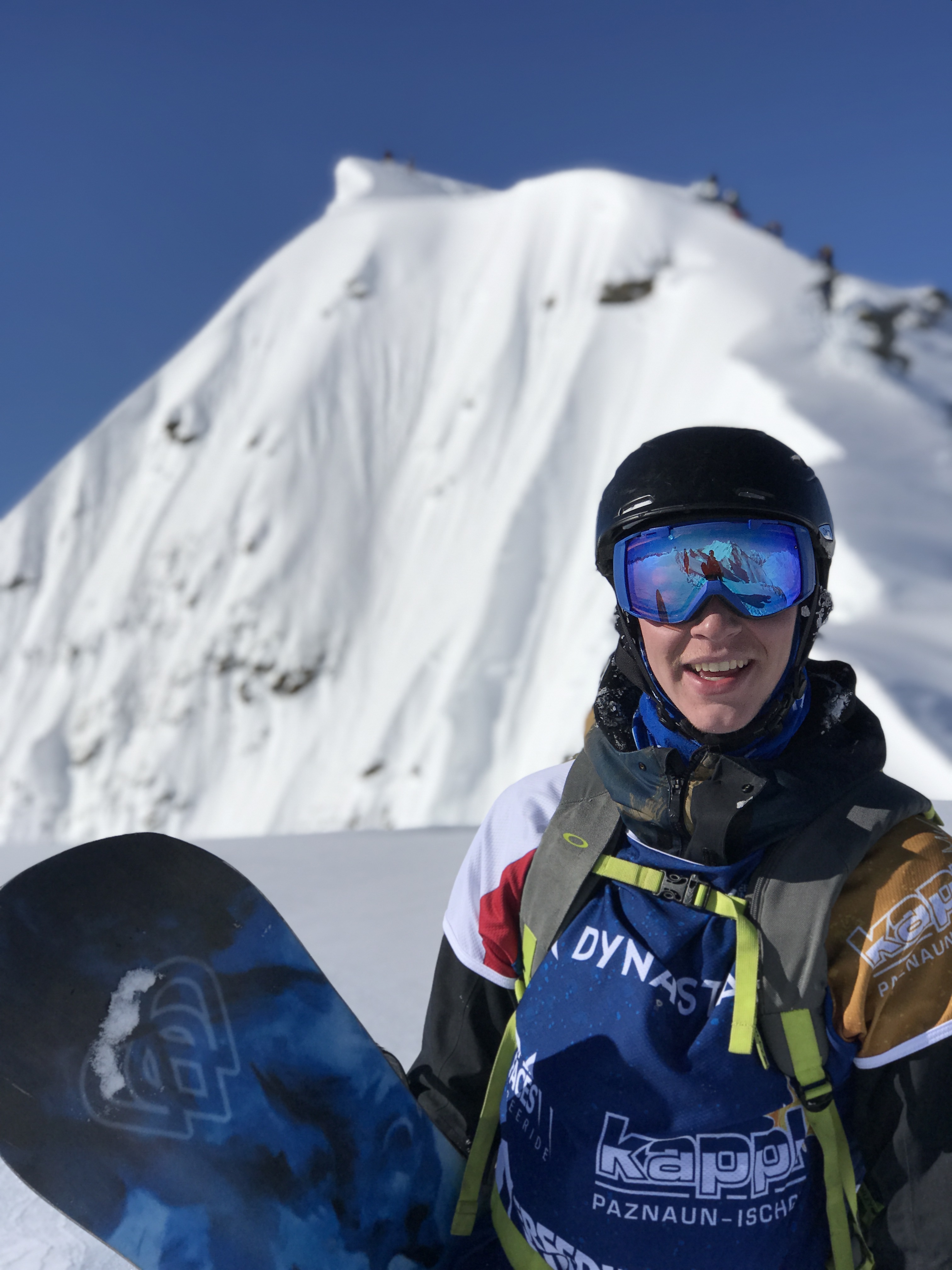 Congratulations on making it to world champs Steven!
Targhee Surf Classic
The 2nd Annual Targhee Surf Classic went off last weekend and it did not disappoint. This snowboard only celebration of board sports culture features a unique park with berms, hits, and quarter pipes and a general shred friendly vibe. The Freeride Program coaches Lance Pitman and Cristina Wiley met up with Ryder Musselman, Ace Emery, Halle Heron and Neo Emery for the day. Ryder and Halle both came out on top for their divisions, and Neo came in 2nd in his. Good job ya'll!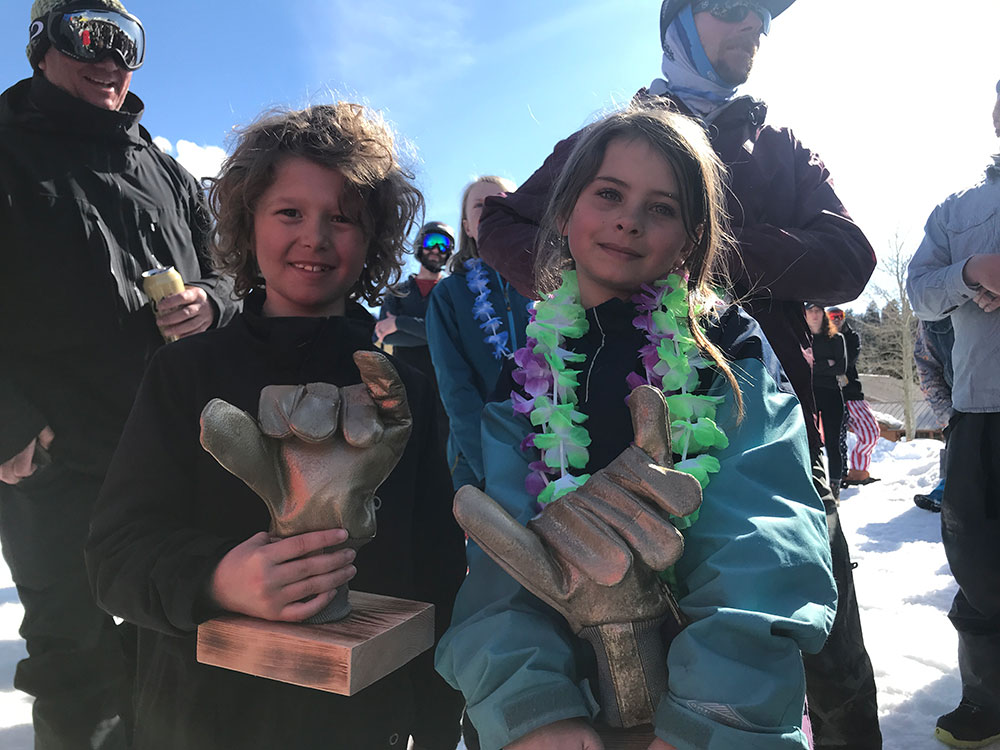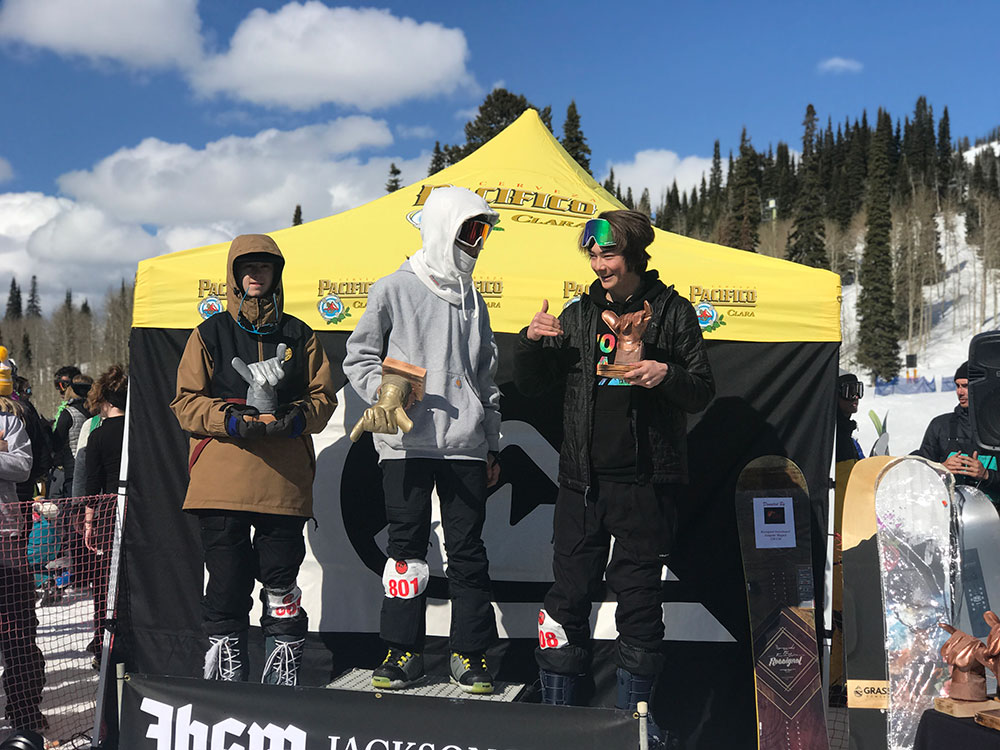 Targhee IFSA National
The IFSA Targhee National event went down with a blue sky, pow day qualifier, and  it was one for the memory books.  The "Reliable" Venue held as much snow as we've ever seen and the landings were soft. Finals day the contest moved up the ridge to the prized "Bobcat" venue. A super difficult run considered by many to be one of the best Junior Freeride Venues in the country.  We had a few falls, a few stomps, some pizza slices and cookies, pow laps and park hits, making it all that we could ask for in a contest weekend.
Snowboarder RoninZell qualified second and overtook first place for the win, and another 1004 points to bump him up into 3rd place in the nation for the 12-14 boys division. Way to go Ronin! Neo Emery took home first place in the qualifier for the 15-18 year old snowboard men, and so did FRP Athlete Jeremy Gries for the 12-14 Skier Men. Both riders fell on their finals day run, attempting lines that would likely have garnered a win. Great job going for it guys! Neo ended up in 3rd Place after finals and Jeremy fell to 16thin the stacked 12-14 Skiers division. 
Snowboarder Steven Bailey came from 3rd in qualifiers to 2nd in the final with a sick front side 360 off the Rock Chuck air to finish up his finals run. Great job Steven!  Will Mercer took a hard charging line in qualifiers, but failed to stomp it, and didn't make the finals cut. Rye Web had a little trouble on day 2, however his qualifying run was enough to get him into 3rd where he stayed once the final was done. 
Female 15-18 ripper Erica Bowditch qualified 6th and landed her finals run to come in 5th. Miles Huseby had a great run going in qualifiers, but ended up finding a chunk of debris in his run-out that took him down. Tough luck, you'll get 'em next time Miles!