December was a busy month for JHSC backcountry programs!  Club wide avalanche programming has wrapped up for all Alpine teams and Freeride teams.  This included activities such as avalanche rescue relay races, constructing mini scaled snow packs on foam boards and tilting them to see how weak layers react, rescue sled, and emergency shelter construction.  Thanks to instructors from the American Avalanche Institute (AAI) for bringing great material to teach to all of the age groups about avalanche awareness.  For those whose attention was grabbed in the avalanche education series, we were able to offer a club wide touring day in the park as well.  This was great to keep the kids moving forward to the next step!
 
JHSC 4 - Month Backcountry Team!
The 4 month team has been busy training up Snow King  once a week after school.  During these trainings we have worked on uphill skinning technique, transitions from skiing to skinning, and put the miles in for fitness.  All of this training has paid off for the athletes as we saw our first full touring day in Grand Teton National Park on Sunday!  For a few of the athletes this was their first time ever backcountry skiing.  The athletes covered some ground making a big loop on a mountain known as "25 Short" (gets its name from topping out 25' short of 10,000').  We went up 25 Short and down the aspens ridge, coming out near the base of Mavericks.  It is amazing to see how much teamwork plays a role in making these backcountry days go smoothly, around every corner the athletes can be seen helping each other out.
From here on out the backcountry team will be traveling into the park virtually every other weekend through March.  It is so cool for the kids at such a young age to be able to see so much of the wild snow covered Tetons all the while learning valuable skills.  Throughout the season the team will study avalanche safety and snow science, plan routes in the mountains, learn about pace setting, and much more.  We have only scratched the surface and are all super excited to do more backcountry skiing.  Some mountain goals for the rest of the season that the team has come up with:  Wimpies, Turkey Chute, crossing Jackson Lake to ski the northern park, Hourglass, and point 10,696.  Stay tuned for next months newsletter to see where we head next!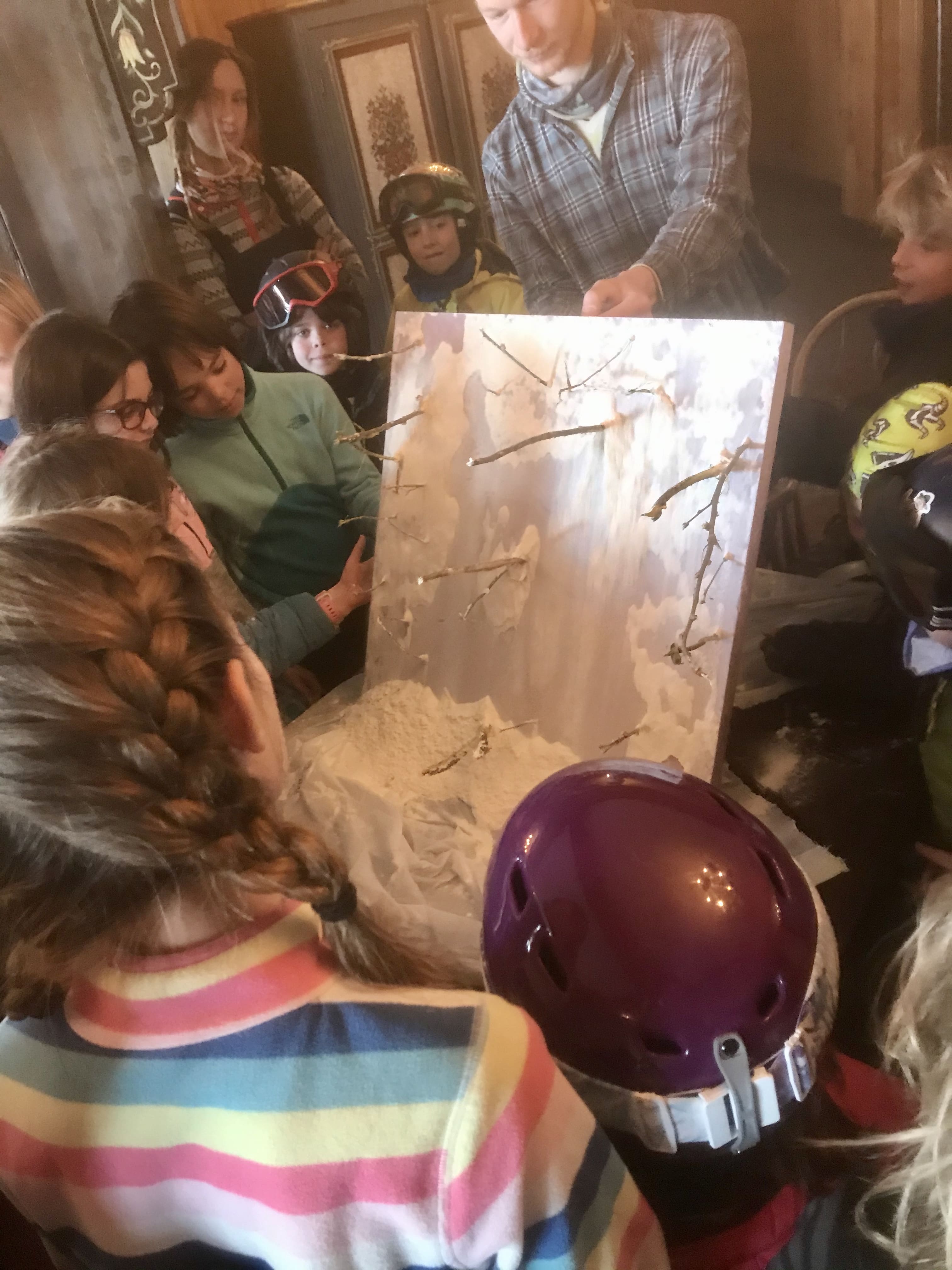 Above:  NGS ski team makes a snow pack with flower - sugar - flower to simulate weak layers and slabs. This is then tilted on its side to the angle that can create a slide
Below: Shots from the 4-Month teams first GTNP touring day up 25 short and down the aspens ridge.  What a fun day!