SAVE $$$ - Join Today!
Your membership in JHSC's Ski Club Card allows us to continue building champions in sport and life while supporting local businesses and saving you money.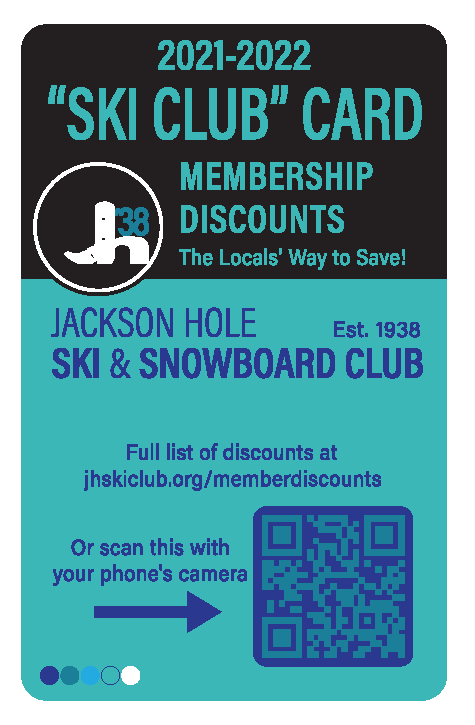 With your JHSC Ski Club Card you have access to over $1500 in discounts at participating businesses throughout Jackson Hole.  The Ski Club Card discount "booklet" is available for download or digitally through your smart device and computer.  Become a member for only $40.  Purchase your card at...
Right here! Use the blue button below
JHSC office, upstairs in the Snow King Sports & Events Center
Season Pass office at Jackson Hole Mountain Resort - complimentary with most season pass purchases
Once you join, you will receive your Ski Club Card.  Keep your member discount card in your wallet, you must present your card to receive your discount. 
JHSC's Membership Program is a popular way for many businesses to get involved with the Club. Joining is easy.  Participating businesses list a discount in our digital membership booklet which will be associated with the 8,000 membership cards that are distributed to individuals including all JHSC families, every pass holder at Jackson Hole Mountain Resort, and numerous visitors to our community.  This wide distribution increases visibility in the community and supports developing local athletes.
Last season's membership directory is available here, for you to see examples of the benefits offered.
Please contact Ali Sehnert at 307-733-6433 ext. 101 or ali@jhskiclub.org with any questions. The cost is $40 and includes 1 membership card and your discount listed in the membership program. If you would like to join for this winter season, complete this form. Business membership cards are distributed to JHMR season pass holders and are available for purchase on our website.