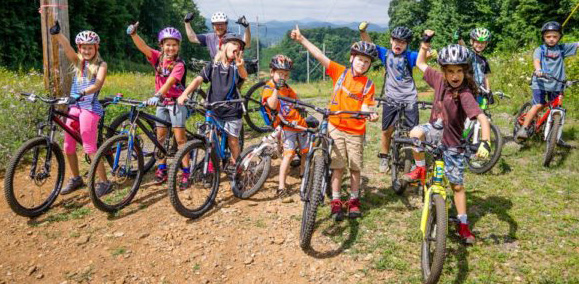 Our Freeride Program will offer two Mountain Bike Skills camps summer 2018.  Both camps are co-ed and can accommodate beginner to advanced riders ages 8 and up. These camps are designed to give your child the skills necessary to get out on the trails.  There will be a lot of fun drills, obstacle courses and challenges, but very little trail riding.  Camps are from 9am to 5pm.
July 25 & 26 - Wednesday & Thursday - Beginner Bike Skills Camp
August 7& 8 - Tuesday & Wednesday - Intermediate Bike Skills Camp
Cost for each camp is $200. There is room for 12 riders each camp with a minimum of 5 riders needed.  Please register by 5 pm the day before as camps do fill up.  Early registration is recommended.  Coaches and vehicles are insured by JHSC.  Please read our Camp Refund Policy.
Frequently Asked Questions - here.
Camp Details
Skill Development Focus
Beginner Fundamentals Skills:
Body positioning
Braking 
Pedaling
Flat Cornering
Shifting 
Etiquette- trail & town
Obstacles
Balance
Climbing
Descending
Intermediate Skills:
Balance
Track Stands
Sprinting 
Cadence
Front wheel lifts
Rear wheel lifts
Obstacles - rocks, logs and curbs
Downhill Cornering
Bunny Hops
Wheelies
Manuals
Endos
Mandatory Equipment:
Mountain bike (preferably suspension)
Helmet
Appropriate footwear: flat soled sneakers (no sandals or running shoes)
Healthy snack
Water
Sunscreen
Spending money (we will go for milkshakes/ice cream after a long day riding)
Extra layer of clothing
Optional Equipment:
Camelback / water bottle
Kneepads / chin pads
Elbow pads
Wrist guards
Hip pads
Sunglasses
bike lock

Schedule:
9:00 - 9:30                 Greeting and warm-up ride
9:30 - 11:30               Skills, Drills, and Games
11:30 - 12:00             Lunch Ride
12:00 - 12:45             Lunch
12:45 - 3:30               Skills, Drills, and games
3:30 – 4:30                Afternoon ride / snack (ice cream) break
4:30 – 5:00                Return to home base
Available Spots Per Camp: minimum 5, maximum 15
Ages: 8 and up
Ability Level: Beginner to Intermediate
Cost: $199 includes lunch and instruction.  Full payment due with registration. 
Questions: 307-733-6433 -Rob