The goal of the JHSC Academic Support Program is to foster long-term athlete development through a balance of academic and snowsports education. In line with the club's Mission, we equip students with a toolkit to pursue personal excellence in skiing and snowboarding and in their intellectual, social, and educational pursuits. Through regular communication with families and with county school administrations, JHSC study halls, sport education, and college and post-graduate counseling, we foster an integrated approach to students' athletic and academic careers. By partnering with Teton County schools to develop year-round programming, we ensure that athletes can pursue both a rigorous academic schedule and high-caliber athletic training and competition. The Academic Support Director, Grace Tirapelle, collaborates closely with the Executive Director and the Alpine, Nordic, and Freeride Program Directors and coaches to integrate goal-setting, time-management, and citizenship skills into athlete education and to ensure student athlete success on and off the hill.
Please contact Grace at gtirapelle@jhskiclub.org with any questions and for school scheduling information.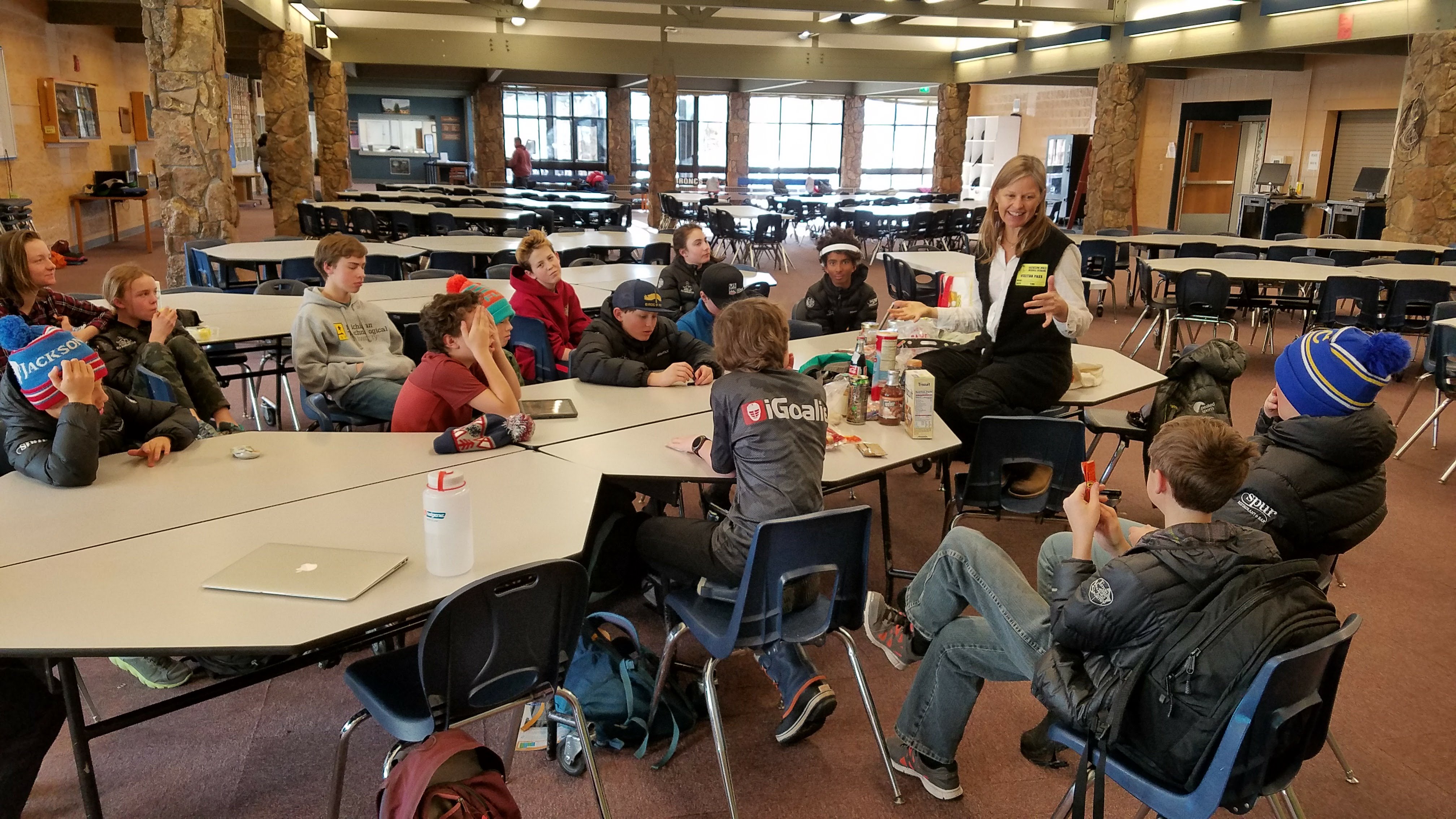 Academic News and Updates
JHSC Ski Education Program
In February, JHMS students played several weeks of history trivia to learn about the JHSC, our Hall of Famers, and early skiing and ski locations here in the valley. We also watched the Olympics and played Olympic trivia to learn about the history of some of the sports included in the current games. We are very fortunate to have had two guest speakers: on February 5, Coach Cynthia Clausen spoke to student athletes about good nutritional habits - her interactive presentation on whole vs. processed foods got students thinking about their afternoon and pre-training snacks, as well as the best ways to prepare the body for training and races. This Monday, February 26, Freeride Program Director Rob LaPier spoke to students about the many possible futures in snow sports, encouraging students to think about how their training and competitive careers may eventually transition to service or work in the field. Thanks to Cynthia and Rob for taking the time to speak to our student athletes!
JHSC Study Halls and Winter Tutoring Schedule
All study halls are open to any JHSC athlete on a drop-in basis. We meet in the Girl Scout Room whenever available or in the Coaches' Office. Grace is available for additional academic support on Monday and Thursday afternoons and before school if the scheduled times below don't work for you. Please send an e mail to gtirapelle@jhskiclub.org and I'm happy to schedule a time to work with you.
Mondays and Wednesdays: Humanities/Social Science Study Hall. 4-6:30 PM. Drop in session for writing, language arts, history, psychology, foreign language, and other electives.
Tuesdays: JH Community School and Journeys School Check In. 4-7 PM. Student athletes are encouraged to check in with Grace for any academic support they need.
Wednesdays: Math and Science Tutoring. 5:30-7 PM
Teton County School District #1
The Club partners with the administrations of Jackson Hole High School and Jackson Hole Middle School to develop academic scheduling that maximizes student time both in the classroom and on snow.
At JHHS, the Early-Release Program carefully considers the needs of student athletes by grade and sport and allows for early release for athletes in good academic standing from November 6 through the end of their competitive seasons. Nordic athletes may release at 3:10 on Wednesdays and Fridays in September-November for dryland training and at 2:40 in the winter months for training at Trail Creek Nordic Center. Alpine and Freeride athletes may release between two and four days/week in the winter season depending on their program level. For details by grade, please see the JHHS-JHSC Programming document. 
In order to be eligible for Early Release in November, JHHS students and parents must sign and complete the following Early-Release Contract and Records Release and submit them to the Assistant Principal, Dan Abraham:
Authorization for Records Release
At JHMS, students are eligible for early release from November 6, 2017 - March 23, 2018. Students release at 2:51, following the end of their 6th period class and are excused from a 7th period elective. The Club works closely with the school registrar to ensure that students maximize time in their CORE classes during the winter season and are, whenever possible, excused from PE during 7th period.  Please see details about the program by grade and program on the Early Release Information and Contract document. Parents should complete the second page of this document and return the contract to Grace Tirapelle by email or in person at the club. 
Jackson Hole Community School
The Jackson Hole Community School is committed to helping student athletes benefit from an exceptional academic experience while simultaneously pursuing their athletic goals at the highest level. In order to do so, they continue a tradition of consistent communication with JHSC to foster an understanding of each student-athlete's unique needs and goals. They offer JHSC athletes a number of scheduling and support accommodations, including 
Zero hour classes to ensure that students can attend all of their core classes every day
Guaranteed free periods for the last two periods of the day with the possibility of even greater flexibility throughout the day
Acceptance of credits from online institutions, should students choose to take an online course
Personal support and flexibility for each student athlete to develop a strong academic schedule that works well with his/her athletic commitments
A school administration that is supportive of students balancing high-level ski racing and rich, challenging academics
For prospective students, please discuss your student-athlete's scheduling needs with David Heinemann, JHCS Academic Dean, in the spring. The club works closely with David to review individual schedules and ensure that both the Club and School can support student-athlete needs. 
The Club and the administration of the Journeys School work with individual families and students to create the best possible academic and training schedule for student success. Early release for training is an option for students in grades 6-12, dependent on their class schedules. Students use study halls scheduled early in the school day to communicate with teachers about class material missed for race and competition travel. Since the 2015 winter season, the school has offered a Winter Term to Alpine athletes training a minimum of 3 days/week. For more details on scheuduling options, please contact Grace Tirapelle and/or your school counselor.  
College Counseling and Support
The JHSC Academic Support Program works closely with the Program Directors and coaches to offer guidance for student athletes as they make their post-high school plans. In the summer and fall of the senior year, we meet with student athletes to learn about their goals and explore colleges and sport programs that fit their athletic and academic goals, as well as campus life and geographical preferences. The Skiing Pathways After High School chart provides an overview of the coaching and training, costs, age and typical USSA point requirements, and scope of competition programs.
The following lists include the contact information and point averages for USCSA and NCAA Division I programs. 
For more information on the college eligibility process, see the NCAA Flowchart for Initial Eligibility to view credit and course requirements or visit the NCAA website (ncaa.org) to learn more about the specific Division I, II, and III academic requirements.